Adele's New Song, 'When We Were Young,'  Would Have Worked Great in the Movie '10 Years'
Channing Tatum could have shared Adele's conflicted feelings, because reunions can get heavy.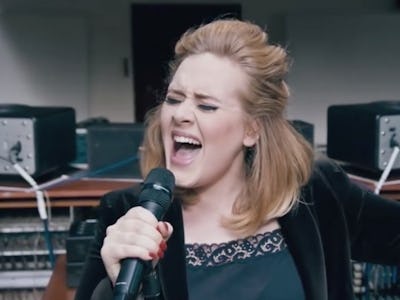 YouTube
In an intimate performance done in London venue The Church, Adele unleashed a new power ballad on the world, co-penned with ascending millennial Nilsson acolyte Tobias Jesso, Jr. The song will be — like every Adele song — something of a grower.
The verse/pre-chorus/chorus structure is exceptionally long, recalling the expansive quality of a Journey ballad (not in a bad way). The likeness extends to the Steve Perry-esque soaring high notes Adele hits on in the climactic section of the chorus — a surprising run-on sentence which I'll try to phrase here: "Let me photograph you in this light, in case it is the last time that we might be exactly like we were, before we realized we were sad of (?) getting old — It made us restless."
If you were expecting an Adele "Without You" from a Jesso-based tune, though, you'll be disappointed.
The Proustian reflections that pepper this powerhouse track seem like a good fit for the soundtrack for a comedic drama about a high school or school reunion. Maybe that's just because Adele anchors the song frequently with the pithy comment: "You look just like a movie." But Adele's comments on the track to SiriusXM bear out the comparison further:
*"It was based on us being older, and being at a party at this house, and seeing everyone that you've ever fallen out with, everyone that you've ever loved, everyone that you've never loved, and stuff like that, where you can't find the time to be in each other's lives. And you're all thrown together at this party when you're like 50, and it doesn't matter and you have so much fun and you feel like you're 15 again. So that's the vibe of it really."
This mythical party sounds a lot like something made possible by big reunion events — because in some circles, everyone you ever loved might just be hookups from college, or the high school sweetheart who you saw Lost in Translation with.
"While We Were Young," in its grandeur, could be the Vitamin C "Graduation Song" for people waiting at the gate for their return flights following emotional reunion weekends.
It would have worked really well in 10 Years, in one of the scenes where Channing Tatum has to resolve his feelings for Rosario Dawson before proposing to his current girlfriend Jenna Dewan. Any 10 Years fan out there with me on this one?
Would've definitely been chiller than the wannabe Damien Rice track Oscar Isaac — in proto-Llewyn Davis mode — plays at the bar: