Here Are the Reasons the Beyoncé and Coldplay Video Is Being Criticized for Appropriation
"Hymn for the Weekend," which premiered on Friday, repurposes traditional garb, religious ceremonies and major Indian stars.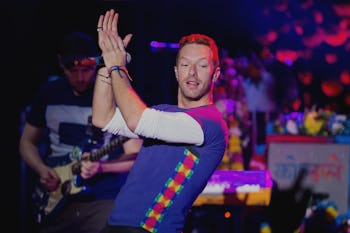 Andreas Rentz/Getty Images
Beyoncé and Coldplay's video for their collaborative A Head Full of Stars track "Hymn for the Weekend" is set in the streets of Mumbai. We see levitating old men (religious leaders?) in traditional garb, peacocks, and Beyoncé as a mysterious Bollywood star seen on a intricately painted billboard, a TV show, and onscreen in a dark, muggy theater. Chris Martin walks through the street heralded by shirtless boys throwing chalk in imitation of Holi, a religious ceremony. Coincidentally, it seems, this gives Martin and his bros the opportunity to spray their band's on-brand rainbow and neon color palette all over the streets of Mumbai.
Throughout, Martin looks out the window of a cab, either marveling at the wonderful "other"ness or hanging out the window, acting like mayor of the city at the front of the parade. It's hard to know why Chris, Beyoncé, and the boys are there exactly, celebrating in the most serious possible tones (a "hymn," after all), getting "drunk and high." Beyoncé's final "namaste" gesture ends the video, and it all feels incongruous and condescending. Pop star remakes Mumbai for the sake of grandiosity and a little dramatic irony.
Outrage and defenses (from both rabid Beyoncé stans and others) understandably followed suit after the video premiered on Friday. Here's a pretty good summary that rubs one sufficiently the wrong way:
The Kathmandu Post cataloged commenters' reactions to the fact that Beyoncé is wearing a sari, a traditional accessory for women in India, in conjunction with a sexualized and Westernized costume. Others lamented why actual Bollywood star and nationwide legend Sonam Kapoor appeared so briefly — totemistically, if you will — in the video.
"My, Sonam looks adorable for the half-sec she's in it for. But that 'Hymn for the Weekend' video is some fairly uninspired cultural appropriation," India-West quoted.
Abu Dhabi Media's The National quoted another Sonar fan on the subject: "You want to tell your grandkids that your career highlight was being in 3 shots of a firangi [foreign] song that misrepresented our India?"
Western sites like Jezebel and The Guardian have also editorialized heavily about the suspect iconography, particularly echoing commenter's critiques of the video recycling the Holi imagery, a stereotypical gambit in appropriation of Hindi culture. Jezebel identifies it in this awful 2013 Iggy Azalea video, among many other places:
Ex-Mr. Paltrow and Bey, do you really want to anticipate the possible glory of your upcoming Super Bowl halftime show making the more expensive version of moves out a Busch League Iggy video? For shame. You must have big ol' heads full of stars, or up your you-know-whats, if you catch my drift.