Something's Not Right About This Chinese 'Deadpool' TV Spot
Just wait until the end to find out.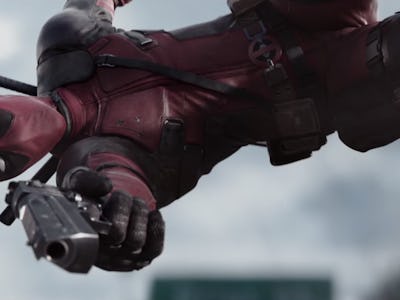 YouTube
The Deadpool marketing blitz keeps on rolling. After a steady stream of straightforward trailers, tongue-in-cheek advertising, and most recently telling viewers both male and female in dual tutorials about how to check for testicular and breast cancer, 20th Century Fox has just dropped yet another Deadpool TV spot.
This time the Merc With a Mouth is speaking directly to his international audience, and hoping to insure some facetime in the lucrative Chinese market. Who knows, if Deadpool is a bomb in the U.S. it might rocket to the top of the Chinese box office to make it a bona fide hit similar to other domestic clunkers like Terminator Genisys. But there seems to be something slightly off in this new 30-second TV spot.
Take a look for yourself:
After the normal motor-mouthed character spouting off some cheesily humorous non-sequitur complaints like "Where's your girlfriend?" and "When are you getting married?" Deadpool wishes everyone a happy year of the monkey before saying "Happiness and prosperity."
Okay, we can get with the lazy cultural signifiers that he talks about here, and nevermind that it's from a red-masked gun-toting anti-hero played by Ryan Reynolds. But you'll have to wait until the end of the clip, past the brief glimpses of some new footage, to get to the real kicker.
Capping the albeit great use of DMX's "X Gon' Give It To Ya," the TV spot ends with the Deadpool logo while a gong plays on the soundtrack. Really, Fox? A Gong? For your Chinese TV spot? Who else thought we'd moved past lazy cultural appropriations like a gong symbolizing China?
We get it, it's supposed to be all in good fun, and Deadpool is all about crass humor that 18-year-olds around the country will undoubtedly eat up. But there's a way to be effectively childish and then there's a way to be oblivious and insensitive.
Hopefully there will be way more of the former when Deadpool hits theaters on February 12.