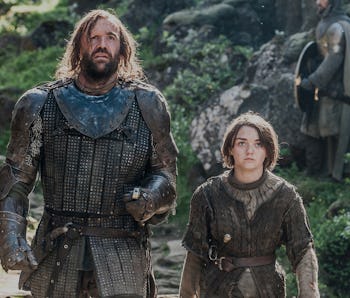 Entertainment
5 Characters, Besides Jon Snow, Who Ought to Be in 'Game of Thrones' Season 6
Ser Pounce, "The Hound," Gendry, and Beric Dondarrion could also make long-awaited returns.
Going into the sixth season of Game of Thrones, Jon Snow's "death" has been on everyone's lips, with fans generally losing their shit. Although our favorite mopey bastard will undoubtedly set the internet aflame if and — let's be real — when he returns, he's far from the only such character. In your Jon Snow Lives frenzy, don't forget about these other characters whose return would be equally exciting.
Gendry
Remember this guy, your second-favorite dark haired bastard who hasn't been seen or heard from since he rowed off in his boat at the end of Season 3? Gendry was Arya's second best road trip companion and an all-around decent guy who had the misfortune of encountering Melisandre and her creepy sex magic. Because he was a good guy and Arya's only real friend, he's doomed, but we didn't even have the closure of seeing his death. Has he been rowing his boat in circles for two seasons? Did he drown? Did he become a merman? These are things we need to know.
The actor himself has said he has "no idea" if he'll ever return, but he could very well be pulling a Kit Harington. To act in Game of Thrones, one must sit on a throne of lies.
Ser Pounce
Tommen's amazingly named cat has inspired his own Twitter account with more followers than you have, as well as fan videos speculating on whether he could be the real Azor Ahai. At this rate, it's surprising they didn't have a table setting for him at Comic Con. He was with us for only one short scene, but he left paw prints across the Game of Thrones fandom forever. As Tommen spent most of Season 5 hiding in his room while his new bride was imprisoned, perhaps Season 6 can see him sending Ser Pounce to bust Margaery out of jail. Ser Pounce: Breaker of Chains, Cougher of Furballs.
The Blackfish
"The Blackfish," aka Catelyn Stark's sassy uncle, is hands-down the coolest Tully. Granted, he doesn't have much competition, as anyone comes out looking great next to Catelyn's crazy sister Lysa or wimpy brother and Red-Wedding groom Edmure. But the Blackfish was a scene stealer in Season 3, with shades of "The Hound"'s zero-fucks-given attitude mixed with Ned Stark's brusque wisdom and decency. We haven't seen him since the Red Wedding, but he conspicuously left the room to take a piss before the slaughter, so he's still kicking somewhere. It looks like he might be part of Jaime and Bronn's Excellent Adventure in Season 6. He would be a welcome step up from the Sand Snakes.
Beric Dondarrion
Beric Dondarrion is another character who has been suspiciously absent since Arya encountered him in Season 3. The show has suffered a serious dearth of characters with eye patches ever since. Beric is significant because he's the leader of the fascinating and under-explored Brotherhood Without Banners — which is also due for a revisit — and he set the stage for Jon Snow's inevitable Season 6 arc when a priest of the Lord of Light resurrected him. It's understandable that the show would want to sweep him under the rug and pretend that never happened so that Jon's resurrection at the hands of Melisandre will come as more of a surprise — but once that's in the rearview, it's high time to return to Beric. He's a fascinating guy, and the show needs more eye patches.
The Hound
We can all agree that the Hound is pretty much the best. He and Arya make the best buddy-cop traveling duo, and as a character, he is the closet embodiment of the show itself: He's violent, uncouth, dirty, and kind of a dick, but damned if he isn't magnificently entertaining and moving at unexpected moments. We last saw him ostensibly on his death bed at the end of Season 4, but the death never happened onscreen. In TV rules, that means all bets are off. Since a popular fan theory places him alive and laying low at a monastery, and Rory McCann has been spotted lurking around Belfast by the internet's Kit Harington Hair Watch Committee, this development looks like it could be within reach. Since he's also the only true friend Sansa has ever had (we'll never be on board with your redemption, Theon!), his comeback would be as welcome as Jon's. We'll welcome him with open arms and smile as he insults us.
We'll find out about these characters (though probably still not Gendry) when Season 6 premiers at the end of April.