'Game of Thrones' Season 6 News: the Hound Returns? 
Our favorite rude warrior may be coming back to Westeros.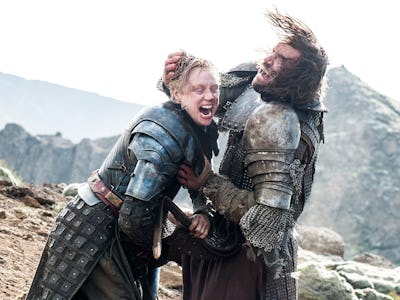 Next season, Game of Thrones might be bringing back the character we've all been waiting on with bated breath… no, not Jon. The Hound! The latest news in Game of Thrones Is Terrible At Keeping Secrets is that Rory McCann has been spotted on the Belfast set.
More than any other character, Sandor Clegane, a.k.a. The Hound, embodies the spirit of Game of Thrones in a nutshell: He's rude, dirty, kind of an asshole, more violent than he needs to be, often pisses people off, and yet he's entertaining as hell and oddly endearing in spite of it all. In a story filled with road trips and miniature two-man plays, the road trip of Arya and the Hound was arguably the best in the show's run — with the possible exception of Jaime and Brienne.
Remember when Mopey Jaime was Douchey Jaime? Douchey Jaime could use a comeback.
Brienne appeared to off the Hound at the end of Season Four, in one of the more surprisingly realistic fights on the show: Nothing glamorous or magical happened, nobody's head exploded, it was messy and undignified and full of awkward noises that Gwendoline Christie said were real. After the fight, Arya then abandoned her not-quite mentor, not-quite enemy as he lay injured, refusing his wish for a mercy-kill.
We never saw him die onscreen, and fans remained optimistic that he would live to smash heads another day. Hope fizzled as he remained absent for all of Season Five. If he does return for Season Six, unless he wants to become a faceless man, the dream team of Arya and the Hound is likely no more. But there's another character he once was kind to, named Sansa, who could really use a friend.
And of course, if the Hound truthers are being vindicated, stay hopeful, Jon Snow truthers.