'Fast 8' Will Blow Things Up In Iceland
A report by a local Icelandic newspaper says Vin Diesel and his 'Fast & Furious' crew will film an explosive sequence there in April.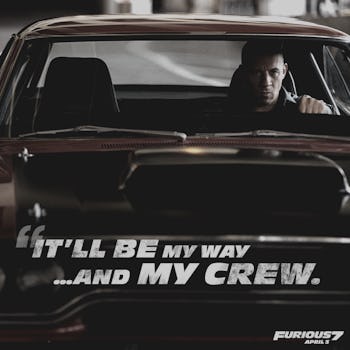 www.facebook.com/FastandFurious
It remains to be seen whether Vin Diesel and his group of Fast & Furious gear-heads will be the first Hollywood production to shoot a movie in Cuba in half a century, but reports from English-language magazine Iceland Review claim that Fast 8 is going to roll in Iceland.
Car-based ridiculousness will come to the small seaside fishing village named Akranes. The village was previously seen in the Netflix series Sense8. The magazine cited a story by Icelandic newspaper Visir, which spoke to Regína Ásvaldsdóttir, the mayor of Akranes, who told them the production is scheduled to shoot there in April.
Though the previous movies were largely based around Los Angeles and a bunch of other far flung locales, initial reports have said the new movie will primarily take place in New York. It marks the first time Diesel's crew would be speeding around the Big Apple. But this Iceland news also makes it the first time they'll go Nordic. Iceland News claims the production will focus mostly on a local harbor location called the Cement Fields, an area surrounding an abandoned cement factory.
So expect the villain of Fast 8 to either have some connections to an apparently shady Icelandic cement business, or just hang out there because of all the gorgeous open space and access to Bjork. (Probably the latter.)
Iceland Review also mentions that Visir reports the crew will carry out the largest explosion ever in Iceland. We're not sure if that is enough to beat the new Guinness record for explosions set by last year's James Bond movie Spectre. It's going to be tough to beat the multi-skyscraper car jump in Abu Dhabi from Furious 7, so it's reassuring that the F&F franchise will continue to push the envelope by blowing things up.
Director F. Gary Gray's sequel will speed into theaters on April 14, 2017.