'Spectre' Sets Guinness World Record for Largest Movie Stunt Explosion Ever
The 007.5-second blast was equivalent to over 68 tonnes of TNT.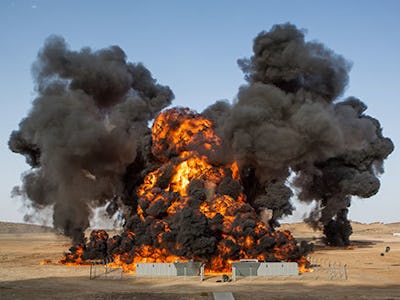 www.guinnessworldrecords.com
That $300 million budget for Spectre had to be used for something. So — garish pyrotechnics, anyone? The latest 007 adventure was just awarded the Guinness World Record for the largest stunt explosion of all time.
If you haven't yet Spectre, then turn away now. The stunt in question takes place towards the end of the movie, when Daniel Craig's James Bond and actress Lea Seydoux's character, Madeleine Swann, escape villain Christoph Waltz's enormous desert facility. Before they leave they just so happen to detonate explosives that do a swell job of destroying the entire futuristic structure.
Yesterday the Guinness Book of World Records gave the award to Craig, Seydoux, and Bond producer Barbara Broccoli on behalf of Special Effects and Miniature Effects Supervisor Chris Corbould, who is the official recipient of the record. It's quote possibly the most badass Guinness World Record that one could hold.
"The James Bond movies are synonymous with pushing cinematic boundaries," Guinness editor-in-chief Craig Glenday said in a news release. "The latest film, Spectre, has again captured the imagination of global cinemagoers, and this will certainly be due in part to the phenomenal stunts. The scene featuring the world's largest film stunt explosion is spectacular and will live long in the memory as one of the outstanding moments in the Bond franchise."
The explosion (again, so awesome) took place in Erfoud, Morocco, and consisted of a blast that used 8,419 liters of kerosene and 33 kilograms of powdered explosives. The 7.5-second explosion was equivalent to 68.47 metric tons of TNT. And, yeah, they were wise to nail it on the first take.