This Electric Three-Wheeler Lets Lean Into Tough Turns — Literally
The best part is you don't need a motorcycle license to ride it, at least in California.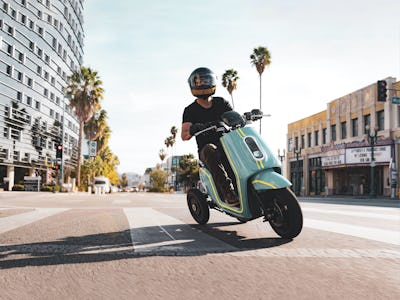 Xoto
Xoto wants you to lean into your daily commute — literally. The electric motorcycle startup just launched its three-wheel offering that features a leaning mechanism that makes turning much smoother.
Xoto says you won't need a motorcycle license to ride its electric motorcycle in California since it's a three-wheeler. However, that's not true in every state, so you should check your local laws before pulling the trigger. Of course, Xoto isn't the only trike on the market, nor is it the only company to feature a leaning mechanism; Arcimoto is also working on its Mean Lean Machine.
LEAN WITH IT
For the Xoto, the leaning trike will top out at 45 mph thanks to its 4,000W motor powering the front-wheel drive. You can limit the speed with the low and medium riding modes, but if you want to unlock the full potential, there's a high riding mode available.
More importantly, the Xoto leans up to 45 degrees to allow for tight turns while going fast. Xoto says you can still take full advantage of the leaning mechanism at any speed, which should make it a more intuitive ride even for beginners.
A single charge will get you around 45 miles on the Xoto, but it features a swappable battery design that will let you double your range. You can switch the 2.15 kWh batteries in minutes to get more mileage. The removable battery design also means you can keep one in your Xoto and one charging at all times. The Xoto will feature LED lights and a USB plug to charge your devices, while also being able to support up to 350 lbs.
DELIVERING THIS SUMMER
Xoto is planning to release its trike in three different colors — green, blue, or black — and will have accessory options including racks in the future. The Xoto's Founder's Edition goes for $7,499 but you can reserve one with a fully-refundable deposit of $300. Xoto says it'll start deliveries of its trike to California, Arizona, Utah, and Nevada this summer.