If Apple Keeps Making iPads Bigger… They Need To Fold in Half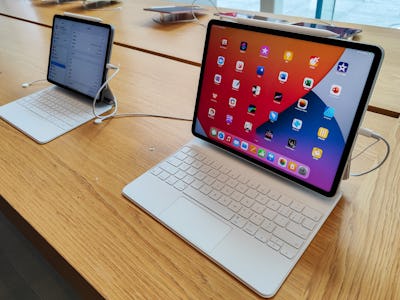 VCG/Visual China Group/Getty Images
According to a questionable Digitimes report via MacRumors, Apple might add a 12.9-inch iPad Air to its extremely bloated tablet lineup. Such an iPad Air would be the same size as a 12.9-inch iPad Pro, likely without any "pro" features like Mini-LED or 120Hz ProMotion.
Maybe the data shows people want a more affordable 12.9-inch iPad. But a larger iPad got me thinking... if iPads are going to keep getting larger, Apple should do the obvious: make them fold in half. Hear me out.
If you're anything like me, you probably feel that a 13-inch tablet is ridiculous; anything beyond 11 inches is excessive, really. Sure, you get a really large screen to play Candy Crush on or watch Netflix, but you lose all portability.
A large iPad with a screen that bends in half would have no such tradeoff and even add laptop-like functionality.
Foldable Laptops Are Here
We've come a long way since the 9.7-inch display on the first-generation iPad. For over 13 years Apple has been steadily increasing the size of its iPads to where we've now got the 12.9-inch iPad Pro. If Apple wants to go even bigger, a foldable display might be a must.
Just look at the PC world. The HP Spectre Fold and the LG Gram Fold are both 17-inch tablet PCs running Windows. But their foldable displays allow them to bend in half and become 13-inch laptops. The foldable design even allows for other modes. For example, you could use the whole screen with a wireless keyboard and mouse or hold it like a book.
There are for sure kinks and concerns (like durability) that need to be ironed out, but if there's any company with the resources to figure things out and then manufacture a foldable tablet at scale, it's Apple.
We're reaching a point where iPads are getting too big for their own good. It's time for change. A foldable iPad would take up less space when closed up while adding a ton of functionality when opened.
NOW OR NEVER
According to that Digitimes report, Apple could start mass production of a foldable iPad as early as the second half of 2024, which seems like a very optimistic timeline. Other companies like HP, LG, and Asus have already launched their own foldable laptop PCs. I think Apple should firmly plant its flag to gain some early traction in a very new market segment.
An iPad that folds would come with some caveats. Existing foldable laptops are expensive and an Apple-branded version would easily cost more than its already pricey iPads. If the rumors are true, we're likely to hear more about a foldable iPad next year. In the meantime, we might just have to settle for a 12.9-inch iPad Air — assuming that rumor also comes true.