Volkswagen's New EV Looks Like the Wagon We've Been Waiting For
There's a serious chance that the ID.7 Tourer will come to the U.S.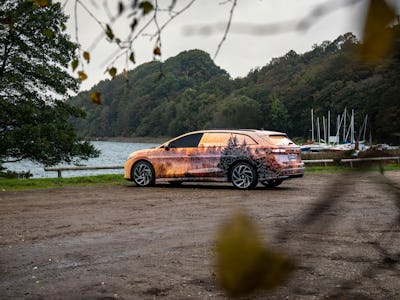 Volkswagen
Fans of the station wagon haven't had a lot to choose from when it comes to the new world of EVs, but thankfully Volkswagen is here to help.
Volkswagen showed off its first all-electric station wagon, the ID.7 Tourer, which is still under wraps. It's essentially a stretched-out version of the upcoming ID.7 full-size sedan that manages to keep its sleek EV look and judging from the initial images that Volkswagen has put out, it could be just what station wagon stans are looking for.
A STATION WAGON THAT'S COOL
Naturally, as a station wagon, the ID.7 Tourer goes big on optimizing interior space. Even with a full squad of five people in Volkswagen's electric station wagon, you still get 545 liters of storage space or around 19 cubic feet. If you fold down the rear seats, you'll expand that storage space to 1,714 liters, or roughly 60 liters. That's still less than something like the Model Y, but still quite roomy.
Obviously, the ID.7 Tourer has a much longer body than the electric sedan it's based on, but it's just as aerodynamic. According to Volkswagen, the station wagon will have a .024 drag coefficient, compared to the ID.7's .023. Volkswagen previously said that the base sedan is aiming for a range of around 700 kilometers, or around 434 miles, so we can expect a drop in range for the ID.7 Tourer.
We don't have many details on the interiors yet, but the station wagon will run off the same MEB platform that the ID. Buzz is also built off of. This platform should mean a long wheelbase, which leads to more room for the interiors.
WE WANT WAGONS
Volkswagen says it will reveal the final design of the ID.7 Tourer in the coming months, but it's expected to hit the streets of Europe in 2024. No surprise there for the German-based automaker, but Volkswagen has previously said that the ID.7 sedan will be released in the U.S. and Canada sometime in 2024.
We're holding out hope that the ID.7 Tourer option will become available as an option in North America, even if that means getting it later than Europe. How many SUVs do we really need, anyway?