This Super Smash Bros. Ultimate Switch OLED Bundle Is Perfect if You Still Don't Own the Console
Nintendo is squeezing every last bit of life out of the Switch OLED before it moves on to the Switch 2.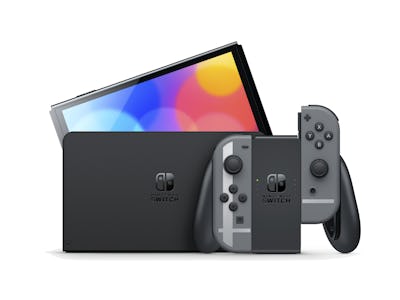 Nintendo
Instead of the same ol' Mario Kart 8 Deluxe Switch bundle that Nintendo offers every year, the gaming giant is mixing things up this time. For this holiday season, Nintendo is releasing a bundle that comes with Super Smash Bros. Ultimate and two customized gray Joy-Cons. If you don't already have the OLED model of the Switch, this bundle is a solid option that comes with a game that has just as much, if not more, replayability as Mario Kart.
THROWBACK JOY-CONS
Compared to your basic Nintendo Switch OLED, the only difference with the Super Smash Bros. Ultimate edition is the gray Joy-Cons which feature the logo from the fighting game. Aside from the Switch OLED console and digital download for Super Smash Bros. Ultimate, the bundle also includes three months of Nintendo Switch Online.
If you really get into the Super Smash Bros. community and want to test your skills in a more competitive setting, you may want to consider upgrading to the Pro Controller or GameCube version. Nintendo's Joy-Cons are known to get stick drift issues if you work the joysticks too hard; home repairs can be inexpensive (but tricky), though.
IN TIME FOR THE HOLIDAYS
The Super Smash Bros. Ultimate bundle will be available starting November 19 (just in time for the holiday shopping season) for $349.99 at select retailers and on the My Nintendo Store. That's a lot more affordable than the Super Smash Bros. Ultimate bundle that came out along with the game's release in December 2018.
This latest Super Smash Bros. Ultimate bundle may not have that specialized dock with all the selectable characters on it, but it does have the OLED screen to make up for it. It feels like Nintendo phoned in the design with this one compared to some of its other more intricate designs, but it's still better than Nintendo only offering the exact same Mario Kart bundle that will be available until the end of time.
A Different Bundle: Super Mario Party
With big hits this year such as Super Mario Bros. Wonder and The Legend of Zelda: Tears of the Kingdom, there's never been a better time to own a Switch. Between those genre-defining games and Super Smash Bros. Ultimate, you'll have your hands full — quite literally. Nintendo is also selling a $99.99 Super Mario Party bundle that comes with the game itself and red and blue Joy-Cons if you're looking for something lighter.
The Super Mario Party bundle comes out on November 10.