Sony's $200 PlayStation Wireless Earbuds Are Coming on December 6
Its sibling, the Pulse Elite wireless headset, will be released later.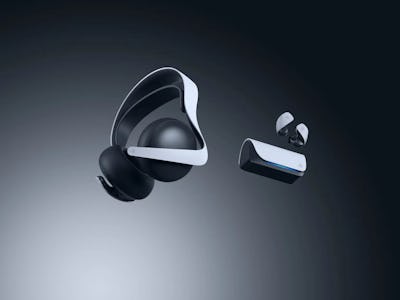 Sony
If you're planning on being a day-one adopter of the PlayStation Portal, looks like you'll be stuck playing audio off the external speakers for a couple of weeks — unless you're still using wires, that is.
Sony announced the release dates for its PlayStation Pulse Explore wireless earbuds, which will come out on December 6 for $199.99, and its Pulse Elite wireless headset, which is set to hit the market later on February 21 for $149.99.
Sony already has a ton of audio gear out there, but these two latest Pulse products are designed to work seamlessly between PlayStation devices. Sony first teased them in May along with the PlayStation Portal when it was still known as "Project Q," later revealing the audio devices' prices in August.
MADE FOR PS LINK
Both the Pulse Explore and the Pulse Elite were made to use Sony's new wireless audio technology called PlayStation Link. The feature means low latency and lossless audio when you're gaming.
Besides the clear audio, both the Pulse Elite and Pulse Explore can simultaneously connect to a PlayStation Link-compatible device and a Bluetooth device. The most likely scenario is you switch your Pulse device between your PS5 and your PlayStation Portal to keep gaming even if you leave your living room TV.
Weirdly enough, you'll need a $24.99 PlayStation Link USB adapter if you want to get that primo audio with a Pulse device through the PS5, PC, or Mac. Luckily, Sony is including an adapter with both of its PlayStation-branded devices.
HOLDING OUT FOR THE HOLIDAYS
For those of you who have already pre-ordered the PlayStation Portal, you'll have to use the onboard speakers or 3.5mm audio jack until the Pulse Explore earbuds come out in December. That's because the Pulse Elite and the Pulse Explore are currently the only wireless audio devices that work with the PlayStation Link, which is conveniently the only way to get wireless audio on the PlayStation Portal. That's right, the PlayStation Portal has no Bluetooth.
It's definitely a bizarre design choice, but it also means Sony gets to dictate which third-party accessories will be compatible. We're guessing that Sony will eventually open up its PlayStation Link compatibility in a way that's similar to Apple's MFi program. For now, you're stuck with these two upcoming options for wireless audio.