This USB-C Dock Transforms Your MacBook Into the Ultimate Workstation
Satechi's Dual Dock Stand has all the ports you need, along with passthrough charging and extra storage room.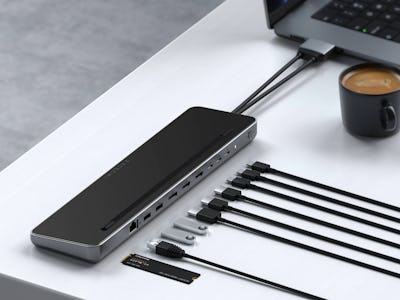 Satechi
There's no such thing as too many ports and Satechi knows it. The brand's newest accessory is a Dual Dock Stand that expands your laptop's capabilities with nine ports external monitor capabilities, and even passthrough charging.
Satechi is known for its USB hubs that make up for the lack of ports with some laptops — looking at all the MacBook Airs out there — but the Dual Dock Stand is the all-in-one solution for making your laptop the central brain of your workstation. The dock even has a hidden compartment at the bottom that can fit an SSD to expand storage.
PORTS ON PORTS
The Dual Dock Stand's ports include an Ethernet port that supports 1 Gbps speeds, a Display Port, two HDMI ports, two USB-A ports, two USB-C ports, and a USB-C port that's limited to passthrough charging at up to 75W. The USB-A and USB-C ports each have a port that gets up to 5 Gbps for data transfers and a more powerful one that gets up to 10 Gbps.
While there's a total of three ports that allow for external monitors, Satechi says the Dual Dock Stand can only support a max of two external displays. If you're using a MacBook that's powered by an M1 or M2 chip, you'll still be limited to only one external display.
The SSD enclosure at the bottom of the dock requires basic know-how, but Satechi will include the screw and screwdriver necessary to install the SSD. The Dual Dock Stand will support both NVMe up to 10 Gbps transfer speed and SATA SSDs up to 6 Gbps.
APPLE AESTHETICS
While the Dual Dock Stand works with any laptop, it's clear that Satechi designed the 9-port dock to match the color of MacBook's space grey. Still, you can slide the dock under most modern MacBook Airs, MacBook Pros, and some Windows laptops. The Dual Dock Stand is already available to order on Satechi's website, starting at $149.99.