Samsung's Massive OLED Gaming Monitor Makes Your PC Setup Seem Quaint
At a whopping 49 inches, Samsung's new OLED gaming monitor is as big as it is expensive.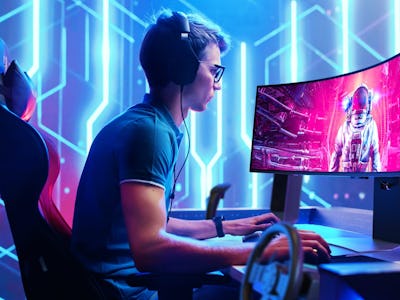 Samsung
Not everyone needs a giant gaming monitor, but sometimes you just want to go big or go home.
For anyone interested in the go-big mentality, Samsung is gearing up to release a huge 49-inch ultrawide OLED monitor for the occasion that looks guaranteed to take your PC setup to the next level. In fact, the Odyssey OLED G95SC — first announced at CES 2023 — is currently available for preorder at the eye-watering price of $2,199.99.
Odyssey OLED G9
That's a steep price tag, but the Odyssey OLED G95SC is obviously made specifically for PC gamers that want a premium experience. In addition to a top-notch 240Hz refresh rate and a 1800R curvature, the Odyssey OLED G95SC is, according to Samsung, "the first OLED monitor to offer Dual Quad High Definition (5,120 x 1,440) resolution with a 32:9 aspect ratio."
Those specs combined with a high pixel density (110PPI) should make the Odyssey OLED G95SC a pretty immersive gaming experience for anyone with a budget high enough to justify the price.
While there are a lot of wild OLED monitors on the market nowadays, Samsung is differentiating itself from the pack by using its own QD-OLED technology which prides itself on higher brightness and better contrast.
Additionally, Samsung is throwing some AI into the picture (surprise, surprise) that should help keep the monitor dynamic when switching between games or other media. Samsung says the Odyssey OLED G95SC will come equipped with its Neo Quantum Processor Pro that uses a "deep learning algorithm" to analyze what you're watching and automatically upscale it while also adjusting brightness and contrast.
Port-wise, the Odyssey OLED G95SC will come with 1 DisplayPort 1.4, an HDMI 2.1, one Micro HDMI 2.1, and a USB hub. Yes, $2,200 is a lot of money (you could build a very nice PC for that price) but Samsung is at least making an effort to justify the premium price with some perks beyond sheer size and display type.
Odyssey G9 Pro release date
The Odyssey G9 Pro is a tough sell for most people's budgets (even in the premium-priced world of OLED gaming monitors), but Samsung is throwing in an incentive for anyone pre-ordering —a $250 Samsung gift card.
The pre-order window will run from today until June 25 and you can snag one on Samsung's site or through Best Buy.