Samsung's Galaxy Buds 2 Now Come With Pokémon-Shaped Cases
Galaxy Buds 2 are a great deal, but they're even better when they come in a Snorlax-shaped case.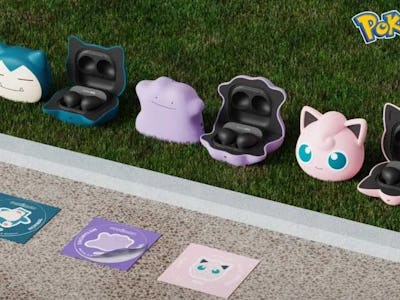 Samsung
There are lots of ways brands use nostalgia to sell you stuff, but this one almost feels like cheating.
In its second Pokémon tie-in, Samsung is bringing a Pokéball-shaped Galaxy Buds case to its logical conclusion: an actual Pokémon-shaped case. Three to be exact!
The cases, made for Samsung's Galaxy Buds 2, will come in several original Pokémon flavors including Ditto, (cute), Snorlax (cuter), and Jigglypuff (wow, take my money right now).
The reason I say it's cheating is because, well... take a look at them. There are only two options after witnessing such an item: you don't know what a Pokémon is, or you want to own a Snorlax case right now. Despite the cuteness, there are some downsides — namely the fact that they're South Korea-only for the time being. Devastating if you, like me, are catching wind of this from America.
But, if (also like me) you enjoy torturing yourself by ogling things you can't technically buy right now, here are some details.
Price and release date
Lucky customers in South Korea can currently purchase cases for KRW 129,000, or about $99, or the more expensive Galaxy Buds 2 Pro for KRW 199,000, which is about $152. All of the cases come with stickers and cards related to the Pokémon you purchased.
If you've been following along, you know this isn't Samsung's first Pokémon tie-in. As I mentioned before, the company previously offered a Pokéball-shaped Galaxy Buds case, and even a whole special edition Pokémon-themed Galaxy Z Flip 3.
Unfortunately, Americans still can't buy either of those desirable pieces of Pokémon nostalgia, so for now you'll have to enjoy the Pokémon being green with envy instead of green from your wallet.