Samsung Galaxy Z Flip 5 Versus Z Fold 5: Which One Should You Buy?
The flip versus fold battle heats up with two new (solid) options from Samsung.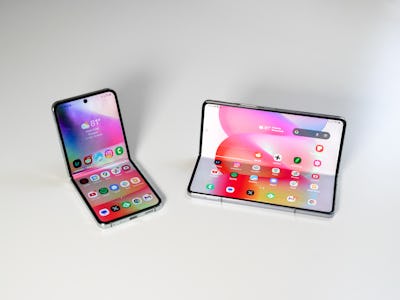 Photograph by Raymond Wong
Samsung's two new foldables — the flip-style Galaxy Z Flip 5 and the book-style Galaxy Z Fold 5 — are now available for purchase. As fifth-generation foldables, they're iterative, but very polished experiences.
Both foldables share similar new features, including the latest Qualcomm Snapdragon 8 Gen 2 chip, faster UFS 4.0 storage, and redesigned hinges that allow for a gap-free design.
If you're new to foldables, you might be wondering which one you should get; the $999.99 Z Flip 5 or the $1,799.99 Z Fold 5? Do you want a phone that folds down to half its size or one that unfolds into a tablet? Which device has the better cameras? Longer battery life? Works with the S Pen for drawing and note-taking?
Lucky for you, I reviewed both the Z Flip 5 and Z Fold 5, and have the answers you're looking for!
You Hate Big Phones: Z Flip 5
Big phones — so big they don't even fit in pockets — are the norm. You don't have to be a sheep, though. If you're tired of fumbling with your glass slab or miss the days of hanging up on someone with a clap, the Z Flip 5 is what you're looking for.
Open, the Z Flip 5 works like your typical bar-style smartphone with a 6.2-inch display that's as tall as phones like the Galaxy S23 Ultra and iPhone 14 Pro Max. Its charm, however, is that it folds in half, which means it'll likely fit in your pants pocket without sticking out. I also really like how it's narrower than those big phones, which makes it easier to use with a single hand.
You Want a Tablet in Your Pocket: Z Fold 5
The Z Fold 5 is a heavier foldable than the Z Flip 5, and for good reason: it has larger displays. If portability is not your top priority in a foldable, and a tablet-sized display is, the Z Fold 5 is the way to go. Crease aside, the 7.6-inch foldable inner display is more spacious for watching videos, reading articles, or playing games (like Call of Duty Mobile) that have overlaid touchscreen controls.
The Z Fold 5 also works with the S Pen. It's a separate $100 accessory (and comes with a case to store the stylus), but useful if you're going to handwrite notes or do any kind of illustrating. I find the S Pen is great for editing photos in an app like Lightroom or editing vertical videos in CapCut.
You Love Multitasking: Z Fold 5
While you can open two apps in split view or more in a "pop-up" window view on the Z Flip 5, the aspect ratio of the inner screen makes it hard to view and manage them. The Z Fold 5 and its bigger display is the better foldable for running multiple apps. I'm a big fan of pairing two apps (i.e. Twitter and Feedly) together and viewing them in split view. I spend less time switching between apps and some apps even support drag and drop so you can do things like copy a photo or file easily.
Beyond its larger screen, which is better for viewing multiple apps, the Z Fold 5 also has one big productivity feature the Z Flip doesn't: DeX mode. When connected to a monitor, keyboard, and mouse using a cable or Bluetooth, DeX mode offers a desktop-like computer experience. Apps open in windows just like on Windows or macOS. While I wouldn't toss out my desktop or laptop yet, for light work (especially anything that's web-based) DeX mode is low-key useful. I know some Z Fold owners who have turned their hotel TVs into desktops for presentations and such.
You Want to Use Your Phone Less: Z Flip 5
These days, our phones are like an extension of our hands — they might as well be glued on. If for whatever reason you want to use your phone less — maybe be more present in reality — the Z Flip 5's clamshell design could help you curb your addiction.
Its default mode is folded, which discourages you to reach for it. Its cover screen works like a smartwatch with widget panels that show you bite-sized information that you'd normally open your phone for — which often ends up down a TikTok hole.
By just being closed, the Z Flip 5 has definitely cut down on my screen time. It might sound too good to be true, but you'll be surprised by how effective it is.
You Want The Best Cameras: Z Fold 5
Both the Z Flip 5 and Z Fold 5 have solid cameras that take good photos and video, but if you want the most versatile lens system, there's only one, and that's the Z Fold 5. There are a total of five cameras on the Z Fold 5 (three on the rear, one on the front, and one inside) compared to the Z Flip 5's three cameras (two on the front and one selfie inside). It's not just more, the Z Fold 5's cameras are better.
On the rear, the triple-lens camera consists of a 50-megapixel f/1.8 main lens, a 12-megapixel f/2.2 ultra-wide, and a 10-megapixel telephoto with 3x optical zoom. The Z Flip 5 has a dual-lens camera with a 12-megapixel f/1.8 main and 12-megapixel f/2.2 ultra-wide.
With 50 megapixels, the Z Fold 5 can take higher-resolution photos. The 3x optical telephoto can capture sharp zoomed-in photos and the 30x digital zoom gets you even closer. The best digital zoom the Z Flip 5 does is 10x. That larger 50-megapixel sensor also supports 8K video recording at 30 fps; the Z Flip 5 maxes out at 4K / 60 fps for video recording.
You Take Lots of Selfies: Z Flip 5
The Z Fold 5 has the better overall camera system, but the Z Flip 5 form factor is better suited for taking selfies. That's all thanks to its 3.4-inch cover screen a.k.a. "Flex Window" which lets you snap a selfie with the 12-megapixel main camera or ultra-wide. You could take a selfie with Z Fold 5's 50-megapixel main camera, but you need to open it up and hold it with two hands or risk dropping it — a very awkward experience.
The Z Flip 5 is small enough to comfortably grip in one hand to take selfies. And if you're really creative, you can open the Z Flip 5 at various angles and place it at different heights to take more interesting selfies — all while previewing before you hit the shutter. You can't do that with the Z fold 5's main or ultra-wide.