How the Quest 3 is Giving Us the Next-Gen Arcade We Deserve
The Quest 3 is already turning your living room into a mixed reality arcade.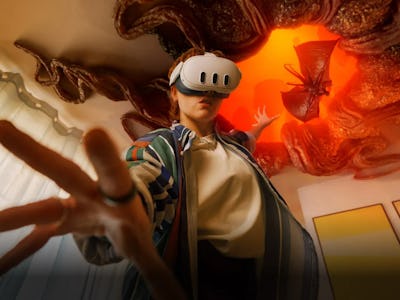 Meta
Mixed reality is opening up a world of possibilites. You've got Mario on your desk, a piano at your fingertips, and many, many screens in your eyeballs while you wash the dishes.
But it doesn't have to be cutting edge. If recent demos are any indication, mixed reality might reimagine one of the most classic forms of video gaming there is — I'm talking about arcades.
Thanks to an improved passthrough feature, the Quest 3 makes any room into a custom mixed-reality arcade. You don't even have to move your sofa or table out of the way. In fact, you may even want to interact with them in your XR game.
MARIO ON YOUR DESK, ZOMBIES IN YOUR HOME
We're already seeing inventive uses with the Quest 3's mixed reality capabilities. For example, this Call of Duty Zombies-esque demo that makes it look like monsters are busting through your apartment's walls and windows.
Obviously, there are plenty of arcade-style VR shooters already out there (Arizona Sunshine, for one), but without the ability to map your room, the experience can feel a little bit confining — even a little dangerous at its worst. Mixed reality on the other hand takes your (probably small) space and optimizes it.
That means there's no need for a big dedicated VR space and no more shuffling furniture around to make sure you don't break anything, yourself included. Mixed reality makes the most out of what you've got, and people are taking full advantage. Think laser tag, but without all the sweaty, old gear, or Duck Hunt, but less analog.
There's a beauty and novelty in turning your own space (or one that you have access to) into a proper laser tag-like arena, too. Check this guy out: he leveled up his XR map by going to what looks like a racquetball court to shoot... whatever these guys are.
THE FUTURE IS MIXED REALITY
We're still seeing just the tip of the iceberg when it comes to mixed reality gaming on the Quest 3, but the results have been pretty interesting if not fully formed yet.
The good part is, if a demo can make you excited, then developers are (hopefully) working on some things that will really take mixed reality to the next level. And it just so happens that the "level" in question might actually look a lot like your cramped living room.