Oura Is Proof That Smart Rings Are Here to Stay
With Oura making its retail debut at Best Buy and Samsung reportedly considering a ring of its own, we might finally have a genuine alternative to the smartwatch.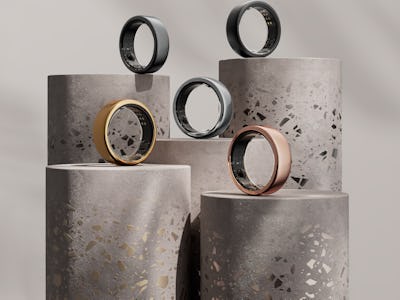 Oura
Smart rings have already proven to be a compelling alternative to smartwatches for sleep tracking, and Oura may be ready to catapult the burgeoning wearable form factor to the next level. The company announced on Monday that it's partnering with Best Buy to sell its smart rings at retail locations across the U.S., a big step towards making the Oura Ring a household name.
The company isn't alone in trying to find wearable alternatives to the ever-present Apple Watch, but its the most visible success story in the space, and it could soon be joined by even bigger competitors, turning what started as a more fashion-forward wearable into the definitive alternative to strapping another screen to your wrist.
In-Person Try On
Oura has excelled at making what could be a fairly technical process tracking and explaining heart rate and body temperature into something easy to understand — perhaps best exemplified by its recent update to sleep tracking that added an astrological spin to finding your chronotype.
The biggest pain point in buying the company's ring — and any wearable device really — is the sizing process. Oura still sends a sizing kit in the mail that allows you to try on multiple rings to find the correct fit, but with Oura rings available at 850 Best Buy stores, the experience should be even simpler. You could theoretically go to a retail location, try on some rings and leave with one that fits you the same day. Or try one on and get your size delivered to the store a few days later.
The in-store try-on experience was a big part of Apple's initial rollout of the Apple Watch, allowing customers to mix and match bands and try on different sizes. The Oura Ring has fewer moving parts to deal with, but trying it on and seeing how small it is makes a pretty good case for the device on its own.
No One Wants Another Screen
Key to the whole smart ring pitch is the reluctance to introduce another screen into our lives just for health tracking. Oura Ring and smart rings that launched before it and after it, like the Motiv Smart Ring and Movano Health's Evie, avoid being another place to put apps and notifications and are better for it. Smart rings, at least the ones that are popular, have largely succeeded by rigorously focusing on health and wellness features above all else.
Looking at it another way, I don't think Humane could even consider proposing a voice-driven, projection-based smartphone alternative if there wasn't some ambient feeling that we look at screens too often. Smart rings are a product of their time, reflecting the anxiety we feel towards gadgets (smartphones and smartwatches) we generally enjoy, but feel like we might be misusing.
Big Competitors Are Coming
The other proof that smart rings are on the up and up? Samsung seems poised to launch one of its own. Back in 2022, Naver reported (translated from Korean) that the electronics company was working on a new wearable to "monitor health in real time," that would take advantage of the much better placement smart rings have on the body (your fingers) to take more accurate measurements than the company's Galaxy Watch can.
In February 2023, TechRadar reported Samsung had already trademarked the name "Galaxy Ring" and referred to the class of devices as "smart devices for measuring health indicators and/or sleep in the form of a ring." Samsung has the definitive Android-based smartwatch in the Galaxy Watch 5, but it's also no stranger to trying a new form factor if it thinks it could be popular. This is the company that brought us the S Pebble, after all.
When it happens doesn't necessarily matter. That a company as big as Samsung is considering it is proof enough that smart rings, even with niche uses and subscriptions, have earned their place at the big kids' table.