The Quest 2 Is Getting a Price Cut and a Big Performance Boost
There's a Quest 3 on the way, but don't count the Quest 2 out.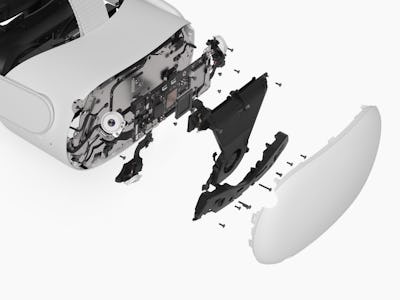 Meta
Meta's upcoming Quest 3 is an enticing consumer-friendly virtual reality headset, but the company isn't leaving the Quest 2 behind. The older headset is getting a permanent price cut that brings it back down to its launch price of $299, and Meta is promising a software update that should unlock even more CPU and GPU performance for smoother apps and games.
The ups and downs of the Quest 2 and Quest Pro's prices are well-documented. In July 2022, Meta raised pricing for the Quest 2 to $399 (128GB) and $499 (256GB) in an effort to lose less money on each headset sold. After the $1,499 Quest Pro debuted to weak demand in December, Meta quickly cut the price of that device down to $999 in March; it also and brought the 256GB Quest 2 down to $429.
The back-and-forth price changes are enough to give anyone whiplash, but the important thing is Meta's older VR hardware is trending down in price, and they'll be an even better deal if you don't need cutting-edge hardware. Here's how the new headset prices break down:
Quest 2 (128GB) — $299.99
Quest 2 (256GB) — $349.99
Quest 3 (128GB) — $499.99
Quest 3 (256GB) — ???
Quest Pro (256GB) — $999.99
More Performance for Free
Other than price, the more intriguing change Meta is making to the Quest 2 and Quest Pro involves updating the headsets' performance. Through a software update, Meta is claiming it can improve the CPU performance of the Snapdragon XR2 in the Quest 2 and Quest Pro by "up to 26 percent" and the GPU performance by "up to 19 percent " on the Quest 2 and "11 percent" for Quest Pro.
That means developers can ship high-resolution, more graphically detailed games, as Meta details in the video above, but more immediately for the average user; everything should run a bit smoother. Navigating menus and loading up your favorite apps should feel more responsive, and the Quest 2 and Quest Pro should feel like newer hardware.
That's great for Meta, which plans on selling both devices going forward, one as an impulse purchase entry-level device and the other as its only headset focused on work (however misguided). Where all of these headsets will stack up against whatever Apple announces next week at WWDC 2023 remains to be seen, but Meta's got several price points at which you can enjoy VR and be guaranteed a pretty consistent experience — apps and games notwithstanding.