Humane's Clothing-Based Ai Pin Wearable Might Cost As Much as an iPhone 15 Pro
The futuristic AI-powered, laser-projecting wearable is not going to be cheap.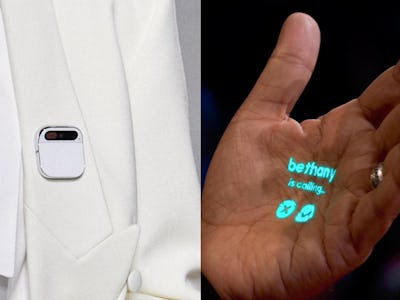 LUCA TOMBOLINI FOR COPERNI, Humane
New details about Humane's Ai Pin have trickled in as we inch closer to the company's November 9 launch. Specifically, we now might know how much Humane plans to sell its "intelligent clothing-based wearable" for and how it will connect to a cellular network.
According to The Information, Humane might price the Ai Pin at a whopping $1,000, which would put it on par with the cost of an iPhone 15 Pro. On top of that, you'd have to pay for a separate data plan — a subscription that Humane would supply, as it reportedly also plans to become a Mobile Virtual Network Operator (MVNO), according to Janko Roettgers over at Lowpass. (Remember, the Ai Pin is meant to replace a smartphone, not pair to one.)
The premium price tag isn't unexpected. We predicted the Ai Pin would cost a pretty penny given Humane's decision to show off the device during a Coperni runway show at Paris Fashion Week.
Described as a "screenless device about the size of a saltine cracker" with "smartphone-level speed" (thanks to an "advanced Snapdragon platform" from Qualcomm), the Ai Pin will reportedly have a camera with a 180-degree field of view.
To trigger the Ai Pin's GPT-4-powered voice assistant, users need only tap on the device. The Information's report also says the Ai Pin can "indicate notifications and different modes using haptics, vibrations and light patterns."
Separately, Pranav Dixit, writing for Time, got to try out the Ai Pin behind closed doors. Highlighted as one of the "best inventions of 2023," Dixit revealed a few new nuggets: the device attaches magnetically to clothing (as we predicted); it uses a "mix of proprietary software and OpenAI's GPT;" and a "Trust Light" turns on "whenever the Pin's camera, microphone, or input sensors are active to make sure everyone around knows when it's listening or recording."
What About Apps on the Ai Pin?
If you've been waiting to hear about how Instagram or TikTok or whatever your favorite app on your phone is will work on the Ai Pin, you might want to sit down. It's starting to sound like there won't be any apps or even an app store.
Per The Information, Humane is leaning into the advantage of ambient computing: no screen means no way to show you ads. Even with a laser projector to display low-res visuals on the palm of your hand, the Ai Pin is meant to get people away from the "attention economy" that is apps. Instead of unlocking your phone and then getting lost in your apps, the AI voice assistant is supposed help you make sense of your digital life through summaries and automations so you can get back to being present and, uh, living. (Of course, the question still remains how you will connect things like your email accounts to the Ai Pin if not via a phone app — through a computer or with the laser projector?)
I think most (if not all) of us can agree that an advertising-free device would be refreshing. (I'm truly tired of constantly being sold something or seeing an ad just to do a thing in a mobile game.) But the reality is that apps now control everything. Love it or not, we are all hooked on phone things like TikTok and YouTube, Reddit, selfies, texting, etc. Just like there was no going back to the pre-telegram or telephone days once the technology spread, there's no going back to an app-less world.
Humane's big challenge won't be releasing the Ai Pin or even lowering the price over time, it'll be convincing people to change their content consumption habits. Behavior is a very hard thing to influence.
One interesting bit from the same report is that the Ai Pin isn't Humane's only planned product. The tech startup, made up of ex-Apple veterans, reportedly wants an ecosystem of AI-powered products. What that actually looks like is anybody's guess.
All I'll say is that we've been here before. Amazon and Google have been competing for nearly a decade to bring "ambient computing" to the masses via their respective voice assistants. Despite tens of millions of Alexa and Google Assistant-powered Echo and Nest smart speakers installed in homes worldwide, we're no closer to living life without our phones, tablets, or laptops. In fact, we've only become more reliant on screens; mixed reality headsets like the Meta Quest 3 and Apple Vision Pro will literally bring us closer to displays. AI could very much supercharge voice assistants and advance ambient computing, but replacing the screens in our lives will be a gargantuan task that's easier said than done.