HP Thinks Its 24-Inch PC With a Handle is Somehow Better Than an iPad
When you need more than a tablet, but less than a desktop PC.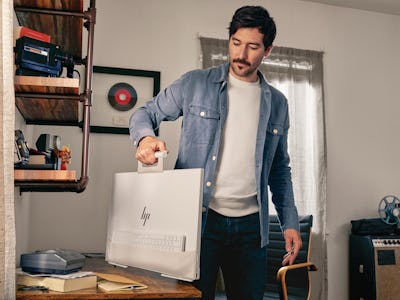 HP
For those of us eagerly awaiting the latest innovation in the all-in-one PC space, HP has the answer. HP revealed the Envy Move, its all-in-one PC that's meant to be carried around with he help of its battery-powered design and built-in handle. HP is claiming that the Envy Move is the "world's most innovative all-in-one design" and the "world's first moveable all-in-one with a QHD display."
WORK FROM ANYWHERE
The Envy Move features a 23.8-inch touchscreen QHD display with a handle at the top that can be tucked away when you're not hauling it around. HP designed kickstands on the bottom of the display that let the portable PC stand upright on flat surfaces. There's even a kangaroo pouch-style pocket at the back of the display that fits its full-size keyboard and integrated touchpad which are included in the purchase.
The portable nature of the Envy Move means it can run solely on an 83 Wh battery that lasts a not-so-long four hours. That means you'll still have to be near an outlet if you want to use it for the entire day.
You can build the Envy Move with up to an Intel Core i5-1335U, 16GB of RAM, and 1TB of storage. HP included a five-megapixel webcam for video chatting and included a built-in privacy shutter. The Envy Move also has a few AI features that can detect when you leave and return to the portable PC or automatically adjust the brightness using an ambient light sensor.
FACING THE COMPETITION
We have to give some credit for getting funky with its designs lately (See: HP's Spectre Foldable PC), however, the Envy Move does make us wonder if HP is solving a problem that doesn't really exist. After all, you can achieve even more portability with an (albeit smaller) tablet coupled with some accessories.
The Envy Move's specs should allow it to compete against comparable tablets, like the latest iPad Pro or the Samsung Galaxy Tab S9. HP even set its portable PC's starting price at $899.99, which feels like a fair price considering the brand's other similarly-priced all-in-one PCs that don't have a handle or battery power. The Envy Move is already available on HP's website and at Best Buy.