How To Swap Siri for ChatGPT Using Your iPhone 15's Action Button
Embrace the superior AI voice assistant.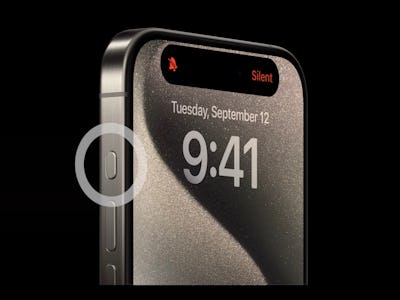 Apple
With the iPhone 15 Pro Apple introduced the Action Button, replacing the traditional mute toggle with something all-purpose and programmable. We've seen a bunch of interesting uses for it already and Apple recently added the Translate function with iOS 17.2.
We could talk all day about how the Action Button can be used, but right now we're going to tell you how to swap Siri for ChatGPT as a voice assistant. Maybe you're a Siri stan, but if you don't use Apple's native voice assistant outside of setting a timer hands-free we're going to tell you how to set up ChatGPT through the Action Button for a change of pace to your AI voice assistant.
HOW TO SET UP CHATGPT ON YOUR ACTION BUTTON
The process is almost as straightforward as having a conversation with ChatGPT. First things first:
Open up the App Store and download ChatGPT onto your iPhone 15 Pro model.
Once you've downloaded the app, go into your iPhone's Settings app and navigate down to the Action Button tab
When you're at the Action Button menu, scroll until you see the Shortcuts option. Search your Shortcuts for ChatGPT, where you will see the option for "Start voice conversation."
Once set up, just press and hold your Action Button and then start talking to ChatGPT.
SOME CAVEATS
For ChatGPT to function as a full-on voice assistant, you'll need to subscribe to ChatGPT Plus which costs $20 a month. After subscribing, you have to go into the app and navigate into its Settings, then New Features, to turn on the Voice Conversations feature.
If you don't want to pay, you can still set up the iPhone's Action Button to open up the ChatGPT app, but you'll only be able to interact through text. For a free, although not as advanced option, you can set up Google Assistant in the exact same way. Either way, we're finally free of Siri and it's all thanks to Apple.