Google Pixel Watch 2 Review: A Better Smartwatch, But Not the Best
Google's second-gen smartwatch has a lot of improvements, but Apple and Samsung still make the best smartwatches.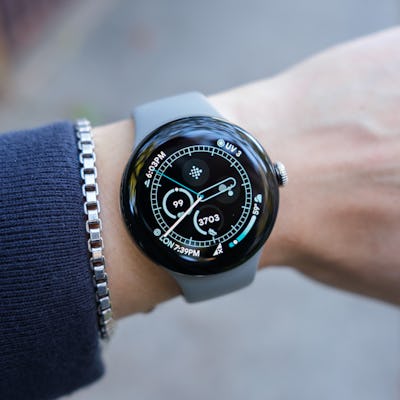 Photograph by Raymond Wong
Google's Pixel Watch 2 is indeed a better smartwatch than the original Pixel Watch, which was very much a first-gen product.
The Pixel Watch 2 is lighter; Wear OS 4 is more responsive; the battery life lasts almost exactly 24 hours on a single charge with the always-on display; the new multi-path heart rate sensor is more accurate.
Sounds like an easy purchase if you use an Android phone, right? Google Pixel owners finally have a competent Apple Watch to match, yeah?
Not exactly.
See, while Google has made many improvements, my experience using the Pixel Watch 2 for the last few weeks has been anything but smooth sailing. I've run into so many bugs and random little issues on the daily that I can't help but feel Google missed the forest for the trees.
Minimalist and Comfortable
I'll be honest, I wasn't totally in love with the look of the Pixel Watch 2, but it grew on me after a few days. It's polished and understated, and pairs up and down nicely. What hasn't grown on me is the small 1.2-inch AMOLED display — it's small and the bezel around it is really thick. It never feels like there's enough room to show buttons and information.
If only Google squeezed in a slightly larger screen and trimmed down the bezel; the 1.7-inch display on the Apple Watch Series 9 and 1.9-inch screen on the Apple Watch Ultra are spacious in comparison. I also had trouble seeing the screen because of reflections — my god, does this thing catch a lot of them, especially outdoors.
I asked Google why it didn't just make a second, larger Pixel Watch 2 with a bigger screen. Both Apple and Samsung offer different sizes for their respective smartwatches. I was told they were focused on improving the shortcomings of the Pixel Watch. That's important, but nearly a decade of Apple Watches and Samsung Galaxy Watches has proven that people have different wrist sizes; a one-size-fits-all smartwatch is just leaving money on the table and customers with bigger wrists looking elsewhere.
Design aside, the Pixel Watch 2 is a very comfortable smartwatch, one that's nicer to wear while sleeping than an Apple Watch, in my opinion. Maybe it's the rounded case or the lightness (31 grams versus 42.3 grams for a 41mm Apple Watch and 51.5 grams for a 44mm Apple Watch), but I never felt like it got in the way while I was catching Zs.
I still think the mechanism for connecting bands is finicky like we said in our Pixel Watch review. I personally don't love that there are two loops on the fluoroelastomer Active Band (the bowtie-shaped design digs into my wrist and takes longer to strap on), but that's just me nitpicking.
My Frustrating Experience
It's one thing to read about changes and another to see how those changes all come together. The Pixel Watch 2 is great when everything works as advertised. Emphasis on when, because half the time it feels like it has a mind of its own.
Even with the Pixel Watch 2 strapped securely to my wrist, I have missed a ton of notifications because of the weak haptics. Haptics, that — in my opinion — also do not feel nice; they're more like lifeless buzzes than melodic vibrations. Apple really nails the haptics on the Apple Watch — they're gentle and organic motorized buzzes that you wouldn't mind vibrating on your wrist.
One of the new features — a feature that's playing catchup to the Apple Watch and Galaxy Watch 5 — is workout detection. When the Pixel Watch 2 detects one of seven different types of workouts, it sends a notification. I like to take walks after work. On my Apple Watch, I always see the auto-workout notification after a few blocks. On the Pixel Watch 2, I almost always missed the auto-workout notifications because the haptics — vibrations that are set to the strongest setting — are so light.
By the time I saw the notifications midway through my walks or when I was returning home, it was too late — the Pixel Watch 2 didn't log most or any of it. I got my steps in, but no other data, like miles walked or calories burned.
Another place you'll notice the not-very-good haptics: the Fitbit Relax app, which is a knockoff of the Breathe app on the Apple Watch. Here, you inhale and exhale for a set amount of time and then you can choose to log your mood. If I'm being honest, the vibrations are so robotic that I think I ended up more stressed out than relaxed while using it.
Or take the random shutdowns. Every once in a while, my Pixel Watch 2 review unit likes to randomly turn off. Why? I have no idea. It doesn't have anything to do with low battery as far as I can tell. Sometimes I just glance over to check the time and — black screen. I have to mash the side button and the crown to reboot it. Last weekend, I gave my bathroom a deep cleanse — hands holding a sponge and bottle of cleaning foam — and asked the Google Assistant to start a five-minute timer. It not only didn't do that, but when I went to check what went wrong, it was on the "Starting…" bootup screen. I ended up shouting at Alexa on my Echo Dot instead.
And speaking of the Google Assistant — there's a 50-50 chance it hears my "Hey Google" voice command. Yes, the feature is turned on and set up correctly on the Pixel 8 that it's paired to. But for some inexplicable reason, it activates whenever it wants. It's even worse on the street where there's more noise. There's something fundamentally wrong when you're saying — at a normal volume — "Hey Google" right into the Pixel Watch 2 on your wrist, but the Assistant in the Nest Hub 20 feet away activates more times instead.
If it's not random shutdowns, the Pixel Watch 2 is constantly locking up. I usually wear the Pixel Watch 2 with the Active Band's sixth hole. This hole can be a little tight, but keeps the smartwatch's new multi-path heart rate sensor in secure contact with my wrist. Sometimes hole six feels too tight and I loosen it up to hole seven, which is not as constricting but still secure. But again, for some reason, there's an issue. It seems to be that whenever the Pixel Watch 2 is not making direct contact with your wrist, it thinks you've taken it off and then locks itself for safety. I've gone to sleep a bunch of times thinking the Pixel Watch 2 was good to go, only to wake up and see the PIN screen and no sleep-tracking data had been collected. I have never had this issue with an Apple Watch or a Galaxy Watch.
In the shower (yes, I wear my smartwatch in the shower), the Pixel Watch 2 display is unusable. Any droplets of water render swipes impossible. My Apple Watch Series 4 has no such problem. I can tap and swipe even if the screen is wet.
Also, I'm into the Analog Arc and Adventure watch faces that show more information at once, but has anyone seen the watch faces available in the Play Store? Ninety-nine percent of them look terrible. It's no wonder Apple refuses to let third-party developers create and sell their own. It's really amateur hour here. Not even the paid ones are good.
A Better Smartwatch, But Not the Best
Look, maybe I got a lemon. I did a factory reset and the random shutdowns and reboots have been less frequent, but I wouldn't say doing so smoothed over all of my issues. Google put a faster chipset inside of the Pixel Watch 2 and Wear OS 4 isn't as laggy compared to the old Pixel Watch, but it doesn't even come close to the snappiness of an Apple Watch or Galaxy Watch. I have low confidence the Pixel Watch 2 will run smoothly come Wear OS 5 or OS 6.
At least battery life is really good! Google claims up to 24 hours with the always-on clock on a single charge. I got almost exactly that every day. The watch would be at 100 percent battery at midnight and dead by the same time the next day. The charging puck now uses pogo pins; it connects easier to the Pixel Watch 2 with magnets, but I've had to fiddle with it more times than I wanted just to get the alignment right. You know what smartwatch I never have to fiddle with when it comes to charging? An Apple Watch.
I also have no complaints about the fitness tracking through the Fitbit integration. Everything seems to work better and more accurately than before (when there aren't any issues) thanks to the multi-path heart rate sensor. As far as I could tell, the Pixel Watch 2's fitness and health tracking is within reasonable accuracy margins compared to the latest Apple Watch.
There are other useful features like "Safety Check" (notify friends or family where they are at a specific time) and "Emergency Sharing" (shares location or medical information with emergency contacts) that work without a cellular connection. You will need the LTE model and a Fitbit Premium subscription to use them, however.
Stress tracking had very little impact on me. Every once in a while, I'll get a notification telling me that the smartwatch has "identified potential signs of stress or excitement" and whether I want to log my mood or not. I did the logging but got almost no value out of it. It's so random and never seems to actually notify me when I'm aware that I'm stressing out.
My point is that fitness and health tracking, notifications, and voice commands are table stakes for a smartwatch. The fact that I've had so many complaints about using the Pixel Watch 2 highlights just how far Google lags behind the Apple Watch. Even an Apple Watch from 3 to 4 years ago seems to work better.
Much like Google's Pixel phones, the Pixel Watch 2 is capable enough. It's got a lot of improvements and does the basics, but the second-gen model still has to do a lot of catching up to Apple and Samsung's smartwatches. If you've got a Pixel phone and can gamble on some bugginess, the Pixel Watch 2 is fine. But if you want the best smartwatch for Android, it's still the Galaxy Watch 5. iPhone users... just get an Apple Watch.
Photographs by Raymond Wong.