Google Pixel Watch 2 Hands-On: The Major Upgrades Are All Internal
Google's second-gen smartwatch fixes all of the original's shortcomings.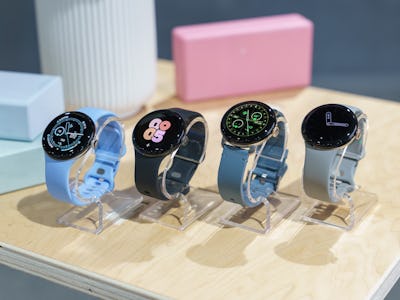 Photograph by Raymond Wong
The Pixel 8 and 8 Pro aren't the only new devices Google announced at its "Made by Google" hardware event today in New York City. The tech giant also unveiled its second-generation smartwatch, the Pixel Watch 2, starting at $349 for a Wi-Fi-only model and $399 for a cellular version launching on October 12.
At first glance, the Pixel Watch 2 looks identical to the original model, but like so many sequential gadgets, the big changes are all on the inside.
If you were hoping for a larger Pixel Watch, I've got bad news: the Pixel Watch 2 comes in one size — the same 41mm case with 1.2-inch AMOLED (384 x 384 resolution) and the same thick bezel. One small detail: Google tweaked the crown design so it's smoother to operate. On your wrist, you might notice it's lighter (31 grams versus the Pixel Watch's 36 grams) thanks to its recycled aluminum case. Google also improved durability with IP68 water and dust resistance, which makes it as durable as Samsung's Galaxy Watch 6 and 6 Classic.
What is all-new is the Qualcomm SW5100 chip, which is faster and more power-efficient than the Exynos 9110 in the Pixel Watch. Google says the more powerful chip translates to a smoother and more responsive Wear OS 4.0 experience, with less lag and less random crashing. I can't vouch for the speed (yet) based on my limited hands-on time with the Pixel Watch 2, but I sure hope it's true because after a few software updates, the original Pixel Watch has become choppy in more places than I like.
PIXEL WATCH 2 SPECS
Size: 41mm
Display: 1.2-inch AMOLED always-on
Weight: 31 grams (without bands)
Processor: Qualcomm SW5100 and Cortex M33 co-processor
Storage: 32GB eMMC flash storage
RAM: 2GB SDRAM
Battery life: 306 mAh — up to 24 hours with always-on display
Durability: IP68 water and dust-resistant
The chipset's more efficient design also means the Pixel Watch can last up to the same 24 hours as before, but this time with the always-on display for showing the clock.
The belly has a new multi-path heart rate sensor, a body-response sensor, and a skin temperature sensor. Users complained that the heart rate sensor on the first-gen Pixel Watch was inaccurate when used during high-motion activities where the sensor would not maintain contact with the wrist. The new heart rate sensor in the Pixel Watch shouldn't have this problem.
Together, these new sensors provide more accurate fitness tracking and health monitoring. There's also a new "Safety Check" feature that's similar to the "Check In" feature that Apple just introduced in iOS 17.
And on the topic of fitness and health — there are some updates to Fitbit. The smartwatch can automatically detect seven types of workouts and send notification reminders to start and stop them. Another feature the Pixel Watch 2 has that the Pixel Watch doesn't is stress monitoring. Google says it's using the same stress management system that Fitbit uses: "cEDA (continuous electrodermal activity – microscopic beads of sweat), heart rate variability, heart rate, and skin temperature to help identify acute body response moments" to detect potential stress throughout the day. While it's no replacement for a doctor, the stress monitoring will offer suggestions to log your mood, take a walk, do a guided breathing exercise, or another intervention.
Fitbit Premium subscribers also get a "Safety Signal" which allows features like "Safety Check" and "Emergency Sharing" (shares location or medical information with emergency contacts) without a phone or activated LTE plan for the Pixel Watch 2. The only catch for Safety Signal is that it only works with the cellular model of the Pixel Watch 2, not the Wi-Fi-only version.
FIRST IMPRESSIONS
Like an Apple Watch generation after generation, Google's Pixel Watch 2 is all about the internal upgrades. Google seems to have heard the feedback on the Pixel Watch and addressed the shortcomings. There's faster performance, longer battery life (now with an always-on display clock), and more accurate and advanced fitness and health tracking.
These "fixes" are all appreciated (so long as they hold up to Google's claims), but might not be enough to sway anyone who owns an Apple Watch or Samsung Galaxy Watch to get a Pixel Watch 2 instead.
A larger model would have been a strong reason to consider the Pixel Watch 2 or even slimming down the bezels and increasing the screen size. But Google seems to think the Pixel Watch 2 form factor is fine as it is. Apple and Samsung, which sell their smartwatches in various sizes, would beg to differ.
For Pixel loyalists or Android users who have yet to jump on the smartwatch bandwagon, the Pixel Watch 2 looks to be an attractive package. We'll have a review of the Pixel Watch 2 in the coming days to see whether the improvements hold up or not.