Google Pixel Buds Pro Review: I Lost an Earbud, a SIM Card, and My Sanity
Lost earbuds, lodged SIM cards, and a whole lot of dropped charging cases.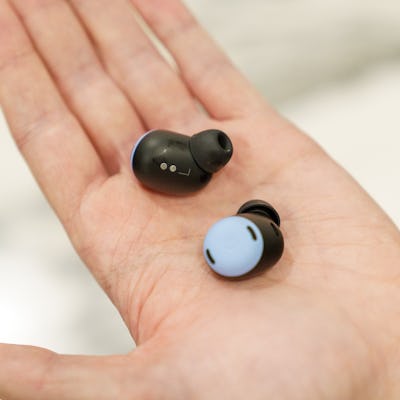 Photograph by Raymond Wong
This review is late — it's late, and I'm stressed. Not because my editor is mad at me (sorry, Ray) or because I have a backlog of other things to write and edit (I do), but because I'm worried that my Google Pixel Buds Pro — the second pair to grace my ears in the past two weeks — might befall the same fate as my last.
Fumbled through my fingers; spilled onto the pavement; gone forever.
New (kind of)
I lost more than an earbud while testing the software-upgraded Pixel Buds Pro — I lost my sanity, too. Oh, and more importantly as a phone addict, I lost my SIM card.
Attempting to swap that tiny, but important, piece of silicon from my iPhone 13 to the new Pixel 8 Pro for testing, I actually managed to lodge it permanently in a sliver of dead space between the actual SIM port and the inside of the phone. After hours of attempting to extract it, I determined that it was stuck, and barring invasive phone surgery it is not coming out. Oops!
That means a few things: I got a nice field trip to the Verizon store at Atlantic Terminal Mall in Brooklyn and I now use an eSIM for cell service. Yay? It also means I'm unable to enlighten you on some stuff: One of those things is Bluetooth Super Wideband, a new perk imbued by a recent software update. Unfortunately, since I don't have a compatible Pixel device to test the features on given my SIM fiasco (they don't extend to anyone with an iPhone) I wasn't able to dig into the new call features.
According to Google, Bluetooth Super Wideband does apply to other third-party call apps that don't rely on cellular, but which apps, when, and how is still unclear to me. My attempt to clarify with Google before publishing this review went unanswered.
But for posterity's sake, I will relay what Google says: Bluetooth Super Wideband is meant to double the bandwidth of voices coming through the buds and make calls clearer and more natural. It also makes Clear Calling — an AI feature that helps distinguish and clarify voices over any potential background noise — better. Some other reviewer with better luck in life and devices will have to give you the lowdown on that.
I did, however, get to test Conversation Detection, which is exactly what it sounds like: your Pixel Buds Pro recognize when you're talking, pauses whatever audio you're listening to, and automatically turns on transparency mode so you can, ya know, actually hear other humans.
I won't prattle on about it, but let's just say the baristas I talked to were pleased with the results, which is to say I could hear them and they could hear me. Conversation Detection is snappy, triggering pretty much the moment you start letting words fly at a normal decibel. I find the pause period pretty ideal for about the length of ordering a coffee, or a sandwich, or something, and didn't have any incidents with it triggering accidentally.
Is it theoretically that difficult to just tap pause on your buds to pause audio when you need to talk to someone? Not really, but it's hard to argue with automation that makes things easier even if said "inconvenience" is minor at worst.
This is my first time using the Pixel Buds Pro (which were actually released in July 2022) and another thing I really liked is Google's finesse with both tap and swipe controls. Default settings allow you to tap either bud to pause, double tap to play the next song, triple tap to replay the last song, and long press to turn active noise cancellation (ANC) off and on.
My favorite is the incorporation of swipe controls for controlling volume. A light swipe forward on either earbud turns the volume up while the converse turns the volume down. It works great. Earbud controls are a bit of a personal sticking point for me and I'm happy to report the Pixel Buds Pro knock them out of the park.
Oh, also, these buds now come in Bay Blue. You don't need me to tell you how to feel about a color. What do you think?
In the end, touch controls, the color blue, AI call features, and Conversation Detection are all just nice-to-haves when it comes to an audio product. What about the meat, you ask?
No points in case
There is no new hardware on the updated Pixel Buds Pro — all of the new features come in a software update — but this is my first time using them, and I have some thoughts.
The first is a thought I don't want to have, and it pertains to the Pixel Buds Pro case. Aesthetically I find the Pixel Buds Pro case net nothing. It doesn't offend me; it doesn't excite me; it exists in both time, and space, and my pockets. Well, sometimes.
Non-aesthetically, I feel quite a lot about the Pixel Buds Pro case, but none of it is going to make its way as a superlative on a Google billboard anytime soon. As I alluded to before, the Pixel Buds Pro case is slippery.
Maybe matte plastic is your thing, but I find the material and the shape to be the charging case equivalent to a bar of soap. Inverse Editor-in-Chief Tyghe Trimble found the case slipper, too, when I showed him the Pixel Buds Pro, so I'm certainly not crazy. During a less than two-week-long testing period with the buds, I dropped them at least four times.
The good news is the case is quite durable — it didn't incur any real superficial damage in my incessant dropping. The bad news? I unwittingly lost one of my earbuds during a drop and had to borrow Inverse Deputy Gear Editor Ray Wong's. I could just be a klutz, but my track record with my main earbuds — Nothing's Ear 2 — hasn't been so tumultuous. I've dropped them, sure, but not at the same clip.
I'm a sucker for purposeful design — that's what drew me to Nothing in the first place — but living in constant fear of dropping my buds into a New York City storm drain grate (something that actually almost happened to me) isn't exactly how I want my wireless audio experience to go.
Sound-wise, the Pixel Buds Pro excite me about as much as the look of the case. I logged quite a few hours of listening and found the dynamic range a little flat. Not bad. Not great. But serviceable. If anything, the Pixel Buds Pro make me appreciate my Ear 2 buds even more.
Maybe that's Nothing's app-based personalized audio tuning at work, or maybe it's different drivers, but in any case, the depth and detail of highs, mids, and lows felt a little lacking in my opinion. If you're sensitive to audio tuning or, God forbid, an audiophile, I don't know that the Pixel Buds Pro are going to scratch that expert itch.
That being said, the Pixel Buds Pro ANC is formidable. On the subway or at a noisy coffee shop playing its own loud, annoying, music the Pixel Buds Pro were there to defend me against foreign sounds. Good ANC can't be overstated when you live in a city like New York and if noise cancellation is high on your priority list, the Pixel Buds Pro are worth considering.
What's in a case
So where do I begin with the Pixel Buds Pro? My experience testing them was — as you may have gathered — personally frustrating. And some of that is probably my fault. Maybe I have butterfingers or maybe I don't know how to insert a SIM card properly.
But I can't help but feel like there are some areas for improvement. A case might not be the most important thing in the world, but if it means you're constantly dropping your buds on the hard pavement, maybe it is.
Flat sound? Not always a dealbreaker, but at an MSRP of $199.99, I wouldn't blame you for expecting more. The good part is that Google is clearly committed to improving the Pixel Buds Pro through software. Perks like Conversation Detection and AI for better and clearer calling are both quality-of-life features most people will enjoy if not jump up and down in excitement for.
And if for whatever reason you do buy the Pixel Buds Pro — maybe you get a big discount, or you just love Google hardware — well, I have just one piece of advice: hold on tight, because the only thing worse than shelling out $200 for a pair of unwieldy earbuds is doing it twice.