Google Is Spicing Up Material You with Generative AI
A better tablet experience, custom wallpapers, and a redesigned Find My Device app are on the way.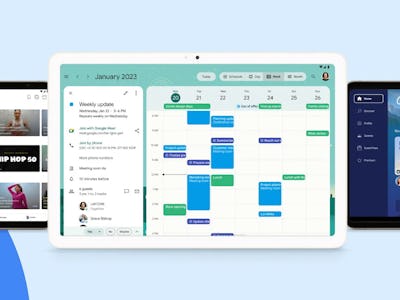 Google
Google's I/O 2023 keynote was (unsurprisingly) packed with hardware announcements, but the company also had updates to share on the latest version of its mobile operating system.
The company didn't brand its Android updates as "Android 14," but detailed several improvements that will be available this summer and in the fall, including updating how Android works on foldable and big-screen devices and expanding support for Material You customizations. The additions are minor compared to the previous year's announcements but do a lot to help Google's overall ecosystem of hardware.
Split-screen and Find My Device
Google's finally updating Android with tablets and foldables in mind. Google's made adjustments to its OS so the Galaxy Z Fold and Flip could work, but Android 14 should make all of those official and surface-level now that Google has skin in the game with the Pixel Tablet and Pixel Fold.
Android 14 supports a helpful split-screen option for multitasking on tablets and dragging and dropping files between apps, and Google is promising over 50 apps that are specifically customized for large-screen devices (some of which are it's own), with more to come. Android's split-screen multitasking on tablets and foldables doesn't seem any more capable or complex than multitasking on iPadOS, but it wasn't there before and is a welcome inclusion in Android.
Google's offered the ability to find lost devices for a while now, but Android 14 is expanding what devices can be located, including headphones, tablets, and third-party tracking tags. Like Apple's Find My service, the company also says that Find My Device can now draw on nearby Android devices to find lost objects, creating a network of everything running Android while keeping location information encrypted. It can also alert you when an unidentified tracker is nearby and guide you with onscreen visual prompts to a lost item, bringing the app to parity with Apple's products.
AI + Material You
Given the ongoing competition between Microsoft, OpenAI, and Google over which company can produce the defacto generative AI experience, it shouldn't be surprising Google has imagined how Android can play a role. So far, it's a more playful experience than a productive one.
Magic Compose, a new feature in Google Messages, uses generative AI to spice up your writing in texts by adapting your messages to a specific tone or character. You can sound happy, or like a specific writer — and, I imagine, very quickly annoy your friends.
New lock screen customizations mean you can place app shortcuts on the lock screen like Apple offers in iOS, and have many more options for clocks and colors. Other customizations include an emoji wallpaper that generates a background based on the emojis you pick, and a cinematic wallpaper that creates a parallax image based on a photo you choose.
For something more experimental, Google's also includes an option to just generate a wallpaper based on an image prompt, meaning you can get an entirely custom wallpaper for your specific Pixel. You could even change it every day.
Android 14 Availability
Android 14 is available in a beta form today and should start rolling out officially to phones this summer (in July, based on Google's current timeline).
Customization options like emoji wallpaper and cinematic wallpaper are coming to Pixel devices next month in June, while the generative AI wallpaper won't be available until the fall.