GMC's Neptune-Themed Hummer EV is a Bold, Blue, Off-Road Beast
The GMC Hummer EV Omega Edition won't have any trouble with extraterrestrial roads.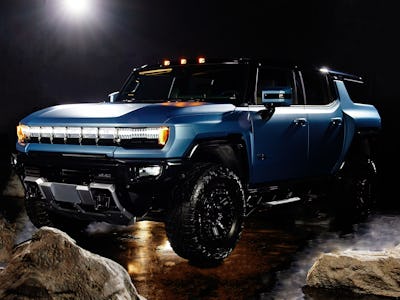 GMC
GMC has an out-of-this-world design for its next limited-edition Hummer EV that's inspired by Neptune. To try and stoke some demand for its hulking EV, GMC announced a second limited-edition model called the Hummer EV Omega Edition. Like the limited Edition 1 launch model, the Omega Edition pulls some design elements from outer space.
Eagled-eye owners saw that the Edition 1 Hummer EV included some easter eggs referencing the Apollo 11 moon landing. This time, GMC looked towards Neptune and its icy blue hues for inspiration with the Omega Edition. The latest limited-edition model is covered in a light blue matte paint job and will be upgraded with Hummer's off-road package. If you didn't think a Hummer EV stands out enough, this Omega Edition will surely turn heads.
OFFROADING ON EARTH
The cosmetic upgrades to the Omega Edition may be the most appealing, but GMC is also outfitting it with its Extreme Off-Road Package. The package includes its UltraVision feature that adds underbody camera views, extra skid plates and rocker protection, 35-inch tires, and 18-inch gloss black wheels that are beadlock-capable for better traction on uneven surfaces.
The SUV model of the Omega Edition will have a 20-module battery, while the pickup will have a larger 24-module battery. Both models will be more than capable on the road or off since they will be built with Hummer's 3X configuration with three motors.
Beyond the matte blue paint job, GMC is adding black exterior badges and transparent sky panels to the Hummer EV Omega Edition. The SUV version will get a beadlock-mounted spare wheel and a spare tire cover that features Neptune's design. The Omega Edition's pickup model will instead get a tailgate audio system.
RESERVATIONS FULL
Considering the base Hummer EV already starts at more than $80,000, it's not surprising that the Omega Edition has incredibly restrictive pricing. The Omega Edition's SUV model starts at $139,995, while the pickup version starts at $149,995. GMC says the limited-edition Hummer EV will start shipping out to customers in the first half of 2024.
If this monstrous blue EV appeals to you, it won't be easy getting one. GMC is first opening reservations for the Omega Edition to those who have already reserved the Hummer EV 3X Pickup or SUV models. If you haven't already done so, you're out of luck because GMC has closed the reservations for both.