Faraday Future Thinks ChatGPT Can Save Its EV From Extinction
It was only a matter of time before ChatGPT made its way into EVs.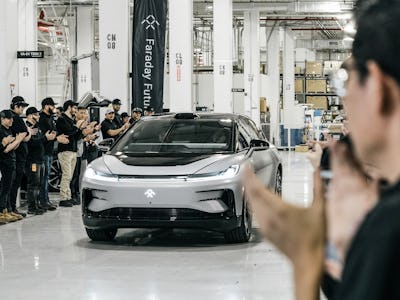 Faraday Future
After a string of failed starts, Faraday Future is looking to make up for some lost time by embracing artificial intelligence. The EV startup was founded back in 2014 but has only just started production on its first EV, the FF 91. Faraday Future went through a number of struggles, including financial turmoil and production delays.
After all that, Faraday Future finally had its first FF 91 come off the production line in April. The latest loop in this rollercoaster of a journey is that the EV startup wants to add generative AI into its first production EV. It's not likely that incorporating ChatGPT will bring the FF 91 into relevancy, but we can't fault Faraday Future for trying to capitalize on tech's biggest trend right now.
SPEED AND SMARTS
Faraday Future says its "Generative AI Product Stack" would allow for a bunch of personalized applications in its FF 91. Prashant Gulati, head of corporate strategy at Faraday Future, said in a press release that the use cases include complex text and voice queries, image and video generation, stock analysis, live translations, search, entertainment, education, e-commerce, and more.
The FF 91 is able to run generative AI since it's built with a capable computing platform, compatible operating system, and internet access. While Gulati says the possibilities are endless through incorporating AI, it's hard to say whether the latest AI models have proven real-world efficacy quite yet.
Of course, all that AI capability is wrapped into an EV that has impressive specs on paper. The FF 91 gets an EPA-certified range of 381 miles, packs 1,050 horsepower, and can get from 0 to 60 mph in just over 2.2 seconds.
PRODUCTION UNDERWAY
This seems like just the start of Faraday Future embracing AI with its EVs. The EV startup says it will have more generative AI features on the table during an upcoming launch event. As for the production timeline, the first FF 91 coming off the production line kicked off the official start of production for Faraday Future's first EV. All that said, we're still not sure of customer delivery timeframes.
Optimistically, there's a possibility that Faraday Future can separate itself from the crowded EV market by leaning heavily into AI. It may seem like the company is making a Hail Mary attempt at attaining relevancy in this competitive market, but there are other major carmakers also looking into AI. GM is reportedly looking into an in-car virtual assistant that uses ChatGPT's models. As for Faraday Future, AI may be a risky bet for a final shot at success.