Dyson's Newest Vacuum Has an Even More Satisfying Dust-Revealing Laser
Dyson's also trying again with a new robot vacuum.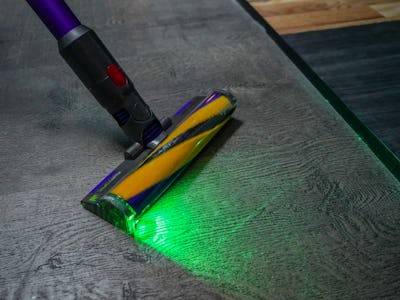 Photograph by Raymond Wong
Maybe I'm getting old, but Dyson's new Gen 5 Detect cordless vacuum is going straight onto my birthday wishlist.
Like the V15 Detect and V12 Detect Slim, the Gen 5 Detect has a laser built into its cleaner head. Gimmick or not, people really enjoy seeing every dust and dirt particle illuminated in green light as they get sucked up into the bin. I am one of those people.
In the Gen 5 Detect, Dyson's made the laser spread larger to reveal two times more invisible dust which is sorted by micron size and then presented on the little display on the back. The motor is also more powerful — the most powerful in any cordless Dyson vacuum — with 280 Air Watts of sucking power compared to 230 Air Watts on the V15 Detect.
My favorite tweaks are the small ones that might go unnoticed. There's no trigger anymore! Don't get me wrong, a trigger makes vacuuming with a Dyson feel like you're handling a blaster, but your index finger gets tired fast pulling on it. A button that turns the motor on and off is much better. The Gen 5 Detect also has a crevice tool integrated into the new separating tube. No more chucking the crevice tool into a box and forgetting about it. And lastly, the weight is more evenly distributed to reduce fatigue.
As the owner of a V15 Detect, I like the changes in the Gen 5 Detect. It looks like a solid upgrade, but like all Dyson products, it won't come cheap. Launching on June 6, the Gen 5 Detect will cost $649. A larger model, the V15 Detect Outsize, will cost $1,049 and come with a 150 percent larger bin, 25 percent larger cleaner head, and twice the run time (140 minutes versus 70 minutes) thanks to its second included battery.
Third Try At A Robot Vacuum
Alongside the two Gen 5 Detect cordless vacuums, Dyson is introducing the 360 Vis Nav robot vacuum. This D-shaped robot vacuum is the company's third stab on turf dominated by iRobot's Roomba and Roborock. The original 360 Eye was a massive flop. I also know because I owned one.
In typical Dyson fashion, the 360 Vis Nav comes with seemingly every buzzword thrown at it. It's Dyson's most-powerful robot vacuum; there's a hygienic bin with a handle; the cleaner head is made of a mixture of different materials for optimal suction especially close to walls; the 360-degree camera and 26 sensors provide a panoramic view for object detection; 50-minute run time. The list goes on and on.
No pricing or release date has been announced for the 360 Vis Nav. What I'm most concerned about is its inability to detect and avoid pet poop, something other robot vacuums proudly tout as a selling point. There's also no mode to double as a security camera or pet companion, or mop the floor — features other robot vacuums have.
Maybe none of these features matter as long as the 360 Vis Nav is good at cleaning your room on its own. But from what I witnessed in person, it's kind of slow. Good thing it's not available for sale yet. There's still time to make improvements.
A "Submarine" Mop
The final new cleaning product from Dyson is a wet mop (based on the V15 format) called the Submarine. It lets you mop over liquids and such. I'm not sure why it took so long, but hey, here it is.
Dyson also hasn't announced pricing or a release date for the Submarine. Expect it to cost a pretty penny just because it's a Dyson, though.