These 4 tablet PCs have a wild trick: they can bend into laptops
The future of laptops could be foldable displays.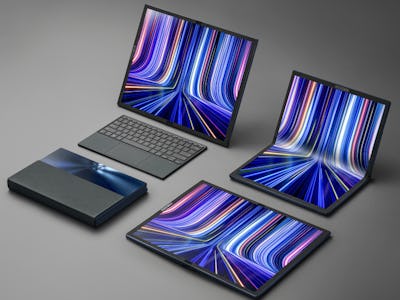 We may receive a portion of sales if you purchase a product through a link in this article.
Laptop designs have become somewhat predictable over the years. Tried-and-true clamshells like MacBooks and 2-in-1 convertibles like the Microsoft Surface devices are here to stay. But what comes next? All signs point to foldable laptop PCs.
Foldable laptop PCs are basically giant tablets that bend in half into a clamshell form factor. PC makers seem to have settled around a 17-inch display that becomes a 13-inch clamshell, with the bottom half turning into a touchscreen keyboard.
The foldable display technology that allows the form factor to exist, however, is still fairly new and expensive. But with more foldable laptop PCs announced this year, they're well on their way to carving out a category, even if it's a niche one.
If you're tempted by the bold form factor and have money to splurge, these are the best foldable laptop PCs you can get right now.
LG GRAM FOLD
LG is the latest competitor to step into this growing arena with its Gram Fold. Its foldable laptop maxes out with a 17-inch OLED display, but you can transform it to suit whatever task you see fit. LG doesn't care if you use it like a 12-inch laptop, a double-wide display with a keyboard, or a semi-folded book. As the newest offering of the bunch, the Gram Fold is the only foldable laptop to include Intel's latest 13th-gen chips.
HP SPECTRE FOLD
Announced in September, mere weeks before LG's Gram Fold, HP was not shy about entering the market with its $5,000 option. HP's Spectre Fold has all the multipurpose functions we see with the others but it features an integrated kickstand that lets you prop it up when you're using it in the double-wide laptop mode. The HP Spectre Fold also has up to 12.5 hours of battery life and fast charging capabilities that can charge up to 50 percent in 45 minutes.
ASUS ZENBOOK 17 FOLD OLED
Asus was the first to bump up the display size of foldable laptops to 17 inches when it debuted its Zenbook 17 Fold OLED in August 2022. The foldable laptop PC is light at just over three pounds and it has all the same flexibility as the others. It's a little hard to find the Zenbook 17 Fold OLED in stock, which either means Asus is preparing an updated version, or it's given up on the form factor. We hope it's not the latter!
LENOVO THINKPAD X1 FOLD
Now, we come to the first-ever foldable laptop that set the stage for the entire category. Lenovo was the first to wow us with this intriguing design back in 2020, albeit with a clunky-looking 13-inch ThinkPad X1 Fold. Eventually, Lenovo updated its laptop to a 16-inch version by cutting the bulk down with the chassis, slimming down the bezels, and of course, making the screen bigger. We're almost due for a third-gen offering from Lenovo, though, especially if it wants to go up against the newer options.