The 9 Best 3-in-1 iPhone, Apple Watch, and AirPods Charging Stands That Work Great With iOS 17's StandBy
It's time to clear the table clutter with a 3-in-1 charger.
by Marc Saltzman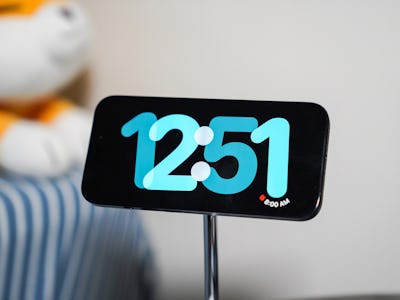 Photograph by Raymond Wong
We may receive a portion of sales if you purchase a product through a link in this article.
Have you tried out the iPhone's new "side" hustle?
Included in the latest iOS 17 software update, StandBy is a new feature that changes your lock screen — whenever your iPhone is lying on its side while charging — to show clocks, photo frames, or info from select widgets. This is super handy for a bedside nightstand, kitchen island, or office desk.
StandBy is even better when your iPhone is on a wireless charger, including MagSafe-supported models, to keep your space cable-free, and with many of these Qi stands able to charge AirPods and Apple Watch at the same time.
So long as your iPhone can lie horizontally while charging, it will kick into StandBy mode (if not, make sure it's enabled by going to Settings > StandBy). You can swipe left and right, up and down, to see different content.
If you're in search of a StandBy-friendly wireless 3-in-1 dock but aren't sure which one to get, the following are the best ones.
Ideal for traveling, at the office or when at home, this 15-watt "made for MagSafe" Anker 3-in-1 Charger Stand is a 2.5-inch cube with a top portion that flips open up to 60 degrees to magnetically hold and present your iPhone, vertically or horizontally. A retractable sidearm holds your Apple Watch, while AirPods or AirPods Pro can be placed on top, behind the phone. (A Qi-compatible Android can also be laid on top, if desired.)
As the name suggests, the Belkin BoostCharge Pro 3-in-1 was designed to simultaneously and wirelessly charge an iPhone, Apple Watch, and AirPods.
This includes up to 15-watt (faster) charging for iPhone 13 (and newer), and Apple Watch Series 7 (and newer) models. Compatible with MagSafe cases, you can position the iPhone vertically or horizontally (for StandBy mode), plus there's an LED light to confirm it's connected properly.
With its clean side-by-side design, the mophie 3-in-1 supports an iPhone with MagSafe in the center — which can be mounted vertically or horizontally (for StandBy) — and AirPods and Apple Watch on each side.
For iPhone, mophie says power can be sent through cases up to 3mm thick — otherwise, you need to remove it before affixing it to the stand. A small white light on the front of the unit confirms your devices are charging.
While not quite as fancy as some of the other 3-in-1 solutions listed here, this Otterbox magnetic wireless charger station holds and powers an iPhone, AirPods, and Apple Watch.
Available in black or white, and ideal for home or the office, this MFi-approved 15-watt solution supports MagSafe device iPhones and most cases. The unit includes a 36-watt wall charger and a 6.6-foot USB-C cable.
The tallest and most minimalist design out of the bunch, the aptly named HiRise 3 Deluxe charges up an iPhone with its circular 15W MagSafe charger, suspended on a 6.15-inch and slender black aluminum stand. Soft vegan leather covers the base and swivel MagSafe charger, for a more premium look.
An Apple Watch can lay in front of it, on its base, and an AirPods or AirPods Pro case behind it (but is wide enough to charge a second phone instead, up to 7.5 watts).
Less compact but the same idea (and same price) as the Anker 3-in-1 Cube, the Anker 737 MagGo Charger offers a triangular design to juice up an iPhone (in portrait or landscape mode), AirPods, and Apple Watch — all at once.
With up to 15-watt fast-charging support, this gray and black 3-in-1 station houses an outstretched arm to lay an Apple Watch onto, while an AirPods case (with wireless charging support) would be tucked inside the triangle. The Anker 737 MagGo Charger includes a USB-C charger and a 5-foot (1.5-meter) USB-C to USB-C cable.
With its matted white or black finish, the Rapid TRIO 3-in-1 and MagSafe-supported charger holds and charges your iPhone, Apple Watch (with detachable stand), and AirPods on its base. The vertical stand consumes less desk space, and lets you swivel your iPhone's angle up to 55 degrees to view your StandBy content however you like.
"But wait!" you say. "I also have an iPad."
If that's the case, the Zens 4-in-1 Charging Stand (sold exclusively through the Apple Store) might be for you.
Simultaneously charge your MagSafe-supported iPhone (up to 15 watts), iPad (including Air, Mini, and Pro), Apple Watch, and AirPods/AirPods Pro, on this one solution — for your night table, desk, or kitchen countertop.
In fact, the Apple Watch extension is modular, so it can both be connected to the main station or used separately. Included with the Zens dock is a 65-watt power adapter and braided USB-C to USB-C cable.
Also found under the Zagg brand, the mophie snap+ wireless charging stand is an all-black 3-in-1 charging dock for iPhone (with or without MagSafe), Apple Watch, and an AirPods case.
With MagSafe and some Android devices, expect up to 15-watt charging, but capped at 7.5 watts for a non-MagSafe iPhone. Speaking of which, the Apple Watch charging ring can be swapped out for a Samsung Galaxy Watch, if desired (sold separately).
Bonus: the weighted steel base includes an extra USB-C port in the back to charge up another device.