This Game Boy Remake With a Joystick Is Gunning for the Analogue Pocket
So many new Game Boys, so little time.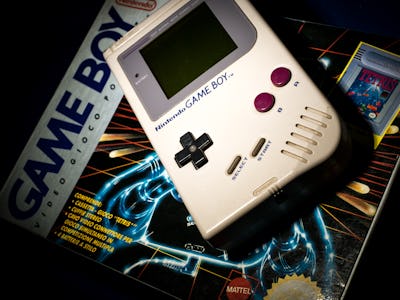 NurPhoto/NurPhoto/Getty Images
If you missed the window to snap up Analogue's limited edition Pocket, you may not be out of luck just yet — Ayaneo is here to offer you an alternative modernized Game Boy.
The handheld recently teased plans to remake the classic Nintendo Game Boy that we grew up with, but with a major twist of including a joystick. Introducing: the Ayaneo Pocket DMG.
BACK IN BLACK
Ayaneo was careful with its teaser images, only providing us with some clues for its blacked-out Game Boy remake. The Ayaneo Pocket DMG will largely borrow from the classic design, including a D-pad, volume wheel, and start and select buttons.
To separate itself from the original Nintendo handheld and the Analogue Pocket, it looks like Ayaneo will be adding a joystick to the bottom left corner. That's a major departure from the original Game Boy and any of its evolutions. The joystick could prove to be a divisive design choice, but it does indicate that Ayaneo may want to run more than just classic Nintendo titles on its handheld.
If you're a purist who's against the inclusion of a joystick, well, you could always wait and see if Analogue will do another run of its Pocket handheld that sells out crazy fast.
Doesn't Play Game Boy Cartridges
In an interview with Retro Dodo, Ayaneo CEO Arthur Zhang confirms things about the Pocket DMG. The big one being that the Pocket DMG doesn't support Game Boy cartridges like the Analogue Pocket.
"Pocket DMG is essentially an Android handheld, and as we did with Pocket AIR, we ported our proprietary management software, AYASpace, to the Android platform, providing players with convenient handheld and game management features," says Zhang.
Zhang says the Pocket DMG is targeting a "more mainstream player base" by going through emulation.
"Alternatively, some players might be drawn to the exquisite appearance of Pocket DMG without being avid retro handheld fans. These player categories often don't have collections of native game cartridges."
Although Zhang admits that the Pocket DMG and the Analogue Pocket share a "strikingly similar" form factor, he says his company's handheld "offers a better gaming experience, richer retro gaming resources."
Release Date Between Q1 and Q2 2024
Besides vague teaser images, Ayaneo hasn't announced pricing or a firm release date for the Pocket DMG. As of now, Zhang says the Pocket DMG is scheduled to be released "between Q1 and Q2" of 2024.
Zhang also says the Pocket DMG is only one of several Game Boy-style handhelds that Ayaeno is developing. "With the Ayaneo Remake concept, we plan to launch several retro handheld consoles themed around the Game Boy series," he tells Retro Dodo.
It's clear that Ayaneo is leaning into the nostalgia we have for old-school tech since it also showed off two mini PCs along with its handhelds. Its Retro Mini PC AM01 shares a very similar design to the original Macintosh, while the Retro Mini PC AM02 heavily resembles the SNES from the '90s. As cool as these look, our inner child is really just waiting for the full reveal of the Ayaneo Pocket DMG.
This article was originally published on