Audi Converted a Classic Car Into the Perfect Retrofuturistic EV
The NSU Prinz 4 got its own electric conversion thanks to Audi's e-tron platform.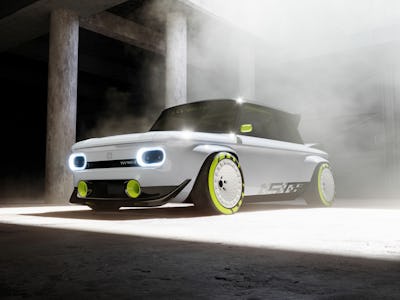 There are a lot of ways you can fix up an old car, but if you want to make what's old truly new again, electrification is the way to go.
Electrifying previously internal combustion-only cars isn't novel, but Audi is the latest big automaker to convert a classic that's worth fawning over. In this case, Audi resurrected a 1971 NSU Prinz, a very retro two-door sedan that got its start in the late '50s. Behold, the revamped NSU Prinz 4 EV:
The newly electrified Prinz 4, which was converted as part of the 150th anniversary of Audi's Neckarsulm manufacturing site, uses Audi's E-Tron drive train. According to Audi, the converted EV ditches the Prinz's original two-cylinder, 30-horsepower gasoline engine for a 240-horsepower, 176 kW electric motor. The battery comes from an Audi Q7 TFSI e quattro, which is a plug-in hybrid.
While the Prinz 4 EV is ostensibly a brand-new car, Audi's apprentices retained original details in the front and rear lights as well as the body's shoulder and roof lines. As you might expect, Audi says the body was modified heavily due to heavy rusting over time. Makes sense, 1971 wasn't exactly yesterday in terms of car years.
Inside, the Prinz 4 EV also brings its namesake into the future with a single-board computer and an infotainment display — things that you'd find in any modern car, especially one powered by a battery.
Electric conversions
Though the Prinz 4 EV is more of a work of art than a ready-for-market EV, electric conversions are increasingly on the radar thanks to companies like Zero Labs, which makes one of my favorite conversions — a retro electrified Ford Bronco.
Conversions obviously aren't easy — especially when we're talking about cars from the '70s — but it's fun to envision a future where gas guzzlers get a second life as zero-emissions vehicles. In the meantime, we'll just have to enjoy the Prinz's glow-up for what it is: a fun science experiment.