Apple's 24-Inch iMac Adds the New M3 Chip for a Big Performance Bump
A modest upgrade to Apple's iMac bumps the M1 processor up to the newly unveiled M3.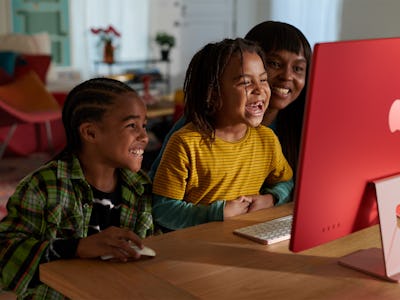 Apple
Scary fast, Apple said, and scary fast it delivered. This year's surprise Mac event was all about the M3 — the newest installment in the M-series line of Apple-made silicon.
Those chips (the base M3, M3 Pro, and M3 Max) will find their way into new hardware, which includes new MacBook Pros that come in (drum roll) space black. A new 24-inch iMac that is — in Apple's words — "supercharged" will be powered by the M3.
If you're itching for an upgrade to your M1 iMac here's everything you need to know.
The 2023 24-Inch iMac with M3
If you were pining for a faster iMac, Apple finally answered your prayers. The new M3 iMac marks the first update since the M1, and as such, also marks a pretty significant leap in performance.
According to Apple, thanks to the M3, this year's iMac is up to 2x faster than the M1 version and 2.5x faster than an Intel-based iMac. Apple also claims the M3 iMac is "up to 2.5x faster than the most popular 27-inch models and 4x faster than the most powerful 21.5-inch model."
This year's iMac comes with an 8-core CPU and up to a 10-core GPU, and also supports up to 24GB of unified memory.
Also new is the inclusion of Wi-Fi 6E, which doubles the download speeds of the previous generation, and Bluetooth 5.3.
The fact is this: If you're upgrading from an Intel-based iMac, or even an M1, the performance boost should be significant. According to Apple, the M3 iMac offers better performance while using apps like Safari and Microsoft Excel (both up to 30 percent faster) and 50 percent faster framerates when playing games compared to the M1 iMac.
And outside performance? Well, the new iMac looks a lot like the old iMac. Same 1080p webcam; same ports; same 4.5K Retina display; and same colors. For those that need a color refresher, those are green, yellow, orange, pink, purple, blue, and silver.
Sorry, no flashy space black here.
M3 iMac price and release date
Incremental or not, for any Apple faithful in need of an all-in-one desktop with more performance than the M1, this year's M3 should deliver that, and at a fairly reasonable price.
The 24-inch M3 iMac 24-inch starts at $1,299 if you're buying the 8-core GPU version and will go up to $1,499 for the 10-core GPU variant. Preorders start today, October 30, and will begin shipping on November 7.