Methadone pioneer Herbert Kleber's approach still helps people today
"We were one of the first to do methadone maintenance outside of New York."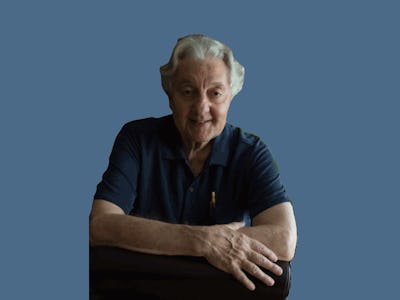 Photograph Courtesy of Anne Burlock Lawver
For individuals living with addiction in the United States during the 1960s, help was hard to find. But psychiatrist Herbert Kleber, M.D., helped change that. As one of the pioneers of medication-assisted treatment for addiction, he was among the first handful of doctors in the US who treated patients with methadone.
And though the worsening opioid overdose crisis has helped other medications and therapies become popular in recent years, methadone remains one of the gold standard treatments for people with opioid use disorder. 
Kleber was elected to the National Academy of Medicine 23 years ago Tuesday. To commemorate that anniversary, and the work of late the psychiatrist who thought addiction should be treated as a medical condition rather than a moral failing, Google honored Kleber with a Google Doodle.
Research continues to show that medication-assisted therapy is extremely effective at reducing the risk of death or serious health consequences often associated with opioid use, and in that way Kleber's legacy of evidence-based treatment for addiction lives on.
A new idea in addiction treatment
As part of his then-radical idea that drug addiction was a medical condition that could be treated with therapy, medication, or both, Kleber became one of the first doctors in the U.S. to give methadone to individuals with addiction. His evidence-based approach was influenced by others in his field who had started so-called therapeutic communities, in which people with addiction were treated through behavioral therapy that involved a rigid and sometimes extreme social environment.
For instance, in a 2015 oral history of Phoenix House, a therapeutic community in New York City, Kleber described an outdated practice of having a member sit in a coffin when they left — to remind them that their peers might not see them again until their funeral.
Despite this morbid ritual, amid harsh new laws that could put drug users in prison for decades, therapeutic communities provided a humane alternative to incarceration. Kleber had gotten a taste of this more enlightened alternative early in his career, working in the Public Health Service Prison Hospital in Lexington, Kentucky, America's first drug treatment prison that was known informally as the Narcotic Farm.
At that facility, patients included those who were both voluntarily and involuntarily committed, and it was there that Kleber first experienced treating drug addiction. It was also there that doctors in the US first began treating people with methadone for heroin addiction.
Bringing medication-assisted treatment beyond the prison walls
Then, in the 1970s when it came to light that the federal public health officials behind the Tuskegee syphilis study had infected black men without their knowledge or consent, the public outcry led to new laws that protected individuals — including prison populations — from scientific experiments. This effectively shut down the treatment prison, but Kleber was just getting started.
After his time at the Narcotic Farm, Kleber brought methadone to a broader population outside the prison walls.
"We were one of the first to do methadone maintenance outside of New York.
His innovative new ideas took root in New Haven, Connecticut, where he had previously done his residency at Yale School of Medicine. There, in 1968 with a grant from the National Institute of Mental Health, Kleber helped start an addiction treatment facility whose evidence-based approaches included both a therapeutic community and methadone treatment.
"We were one of the first to do methadone maintenance outside of New York," Kleber recalled in the oral history. "I think we were the third- or fourth-oldest methadone program in the country. So we had a methadone program. We had a therapeutic community."
Beyond New Haven
It was never Kleber's view that methadone on its own would be enough to treat addiction, and he thought an eventual goal should always be for patients to wean off of it at some point.
"I felt that we could put people on methadone, keep them on it, give intensive therapy, and then withdraw them from it," he said.
But it's become a crucial part of evidence-backed treatment programs, and even without additional therapy, it's been shown to help save lives.
In a 2018 study Canadian ex-offenders who were prescribed methadone after their release from incarceration were significantly less likely to die from all causes, including from overdose and infections — both common hazards of intravenous drug use.
Experts have pointed out that providing patients with opioid maintenance can help them focus on parts of their life that need attention, like housing and work, rather than searching for a fix.
And though Kleber died in October 2019 at 84 years old, his influential ideas supporting scientific treatment of drug addiction live on.