Yandex Self-Driving Chief: We Will Go Autonomous 'Way Earlier' Than Tesla
Dmitry Polishchuk, head of self-driving at Yandex, is bullish on the firm's prospects.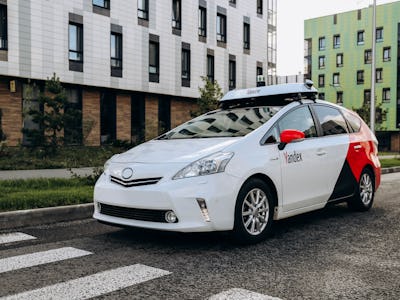 Yandex
Yandex, Russia's largest technology company, could become one of the first groups to launch an autonomous taxi service without human engineers in the car.
As Waymo makes headlines in Arizona with its autonomous taxi trials, and Tesla promises robo taxis for its own cars next year, Yandex has been quietly expanding Europe's first self-driving car service over 6,000 miles away.
Dmitry Polishchuk, head of self-driving at Yandex, tells Inverse that the team expects to actually beat Waymo and Tesla in a few months on one elusive measure.
"Hopefully, by the end of this summer, we will launch the next stage where on a few routes, the car will come to you if you hail a taxi, and there will be no one in the car," Polishchuk says. "So this will be completely autonomous."
If the team can overcome the regulatory hurdles, it could become the first major company to operate a taxi with no operators present. Yandex first started its limited public trial in the small town of Innopolis in August 2018, racking up over 1,000 trips just two months later. It also expanded out to Moscow and Skolkovo that same quarter. The cars are hailed through a smartphone app, and since launch, an engineer has sat in the passenger seat waiting to take over.
At the annual Consumer Electronics Show in Las Vegas in January, Yandex took its show on the road. The demonstrations at the event, the first outside Russia, wowed tech journalists. Wired declared the test drive went "flawlessly," and PCMag described it as "smooth as it could've been." Reports focused on how a brand that's practically unknown in the United States appears to have a chance at becoming a key player in the space.
Yandex's next goal is to harvest more data, and to make that happen it's going to Tel Aviv. The team announced its expansion last week, declaring itself the first autonomous car on the city's public roads. Expansion, beyond gaining access to local tech talent currently working at the likes of Intel, means Yandex will adapt to narrower roads and less predictable conditions.
"There are a lot of scooters, bikes, and electric scooters and stuff like this," Polishchuk says. "So we should really train our car to understand and predict their behavior on the road."
Although it's initially starting with one car operating with a driver in the seat, Polishchuk says the team is aiming to put 10 cars on the road by the end of the year, with a long-term goal of taking the human out of the front seat and expanding to cover the city over the next five years.
Yandex Vs. Tesla: How the Two Compare
One firm that has the potential to suddenly surge to victory is Tesla. The automaker is banking on its "Hardware 2" platform, which means that every car shipped since October 2016 has the necessary suite of sensors to support full autonomous driving. Tesla plans to ship the necessary software and computer upgrades to support a full robo-taxi service by next year. If Tesla can pull it off, it could already have a fleet of nearly half a million autonomy-ready cars on the road.
Yandex does not have a fleet like Tesla's, where customers' cars collect driving data to train the A.I.. It also lacks Tesla's large base of super fans, willing to spend thousands pre-ordering a feature that doesn't exist yet. Despite these perceived disadvantages, Polishchuk believes Yandex will come out on top.
"I think in terms of real deployment, for sure, we will have a fully autonomous car way earlier than Tesla is promising," Polishchuk says. "I am one hundred percent sure they won't have a fully autonomous car by 2020. They will have more advanced [semi-]autonomous features in their cars, but not full autonomy. It's just not possible with the current sensor set Tesla is using."
This sensor set has been a source of controversy. CEO Elon Musk has famously dismissed the distance-sensing lidar common on most other autonomous cars. This means all cars ship with a set of cameras, radar and ultrasonic sensors.
Musk argues that, as humans use camera-like eyes to drive, a special depth sensor is not necessary. MIT professor Lex Fridman agreed with Musk in a May interview, describing the camera as the "richer, deeper sensor" ideal for the car of "tomorrow."
Polishchuk disagrees with Musk and Fridman, and went as far as to say that Tesla will likely add more sensors to its cars.
"They will add more compute cores, and they will most likely add sensors," Polishchuk says. "I know Tesla is doing experiments with lidars, by the way. You can even find information on the internet where there are pictures of their cars running with lidar."
This is despite the fact that Musk has routinely claimed that the current sensor suite is adequate. At an April investor day, Musk dismissed lidar as "frigging stupid," predicting that all other firms will ditch lidar due to price. Polishchuk countered that the price of the sensor is dropping all the time, which would make dropping it a complicated task with little financial benefit.
Polishchuk claims that Yandex is likely in the "top three" autonomous car firms in the world. The breakthrough could mean a greater interest from the Russian government in the developing sector.
Yandex and the Russian Government
Following the collapse of the Soviet Union, the Russian Federation successor state famously underwent a period of economic "shock therapy" under Boris Yeltsin. State-owned firms were sold off en masse, creating a class of oligarchies. But even as the state retreated from some areas, it maintained control in key areas like media and natural gas.
The government has taken a strong interest in Yandex's search results. Andrei Soldatov, co-author of The Red Web, told Vice News in 2017 that "the Kremlin has tried to influence what appears on Yandex's front page since the war with Georgia in 2008."
This interference from government forces increased this month, as the Federal Security Service demanded the firm hand over encryption keys. Yandex refused, with the backing of government officials like the deputy prime minister. But campaigners warn that companies aren't allowed to reveal their levels of state co-operation, and the bigger story is unlikely to end with this tussle.
"The security services want more levers of control, and Yandex is going to be saddled with more obligations," Sarkis Darbinyan, legal officer for digital rights NGO Roskomsvoboda, told the Christian Science Monitor.
Russia largely plays second fiddle to the United States and China in the growing artificial intelligence race, but Yandex's success could change the conversation.
Yandex Goes for Gold in the AV Race
American media coverage has largely focused on domestic breakthroughs in the race, but this is an international industry. China's Didi Chuxing has claimed it too could become a frontrunner, leveraging its 550 million users to collect data. Oxbotica has demonstrated a fleet of grocery-delivering vans in the United Kingdom. Even on Yandex's home turf of Russia, Cognitive Pilot is working on its own setup.
Although Waymo touts custom-built sensors and Tesla is working on a self-designed computer, Polishchuk argues that the world's teams are largely competing on an equal playing field. On the computer side, for example, it's possible for a group to use any overpowered off-the-shelf PC if they really need the extra force. The big decider will be sheer programming ability, something you can't get just from having access to an exotic manufacturing facility.
"The competition in self driving technology will be not in sensors, it will be all about the algorithms," Polishchuk says. "It will be all about how you operate the data."
Polishchuk says the firm is "considering" a U.S. expansion, but no decision has been made about the location or size of the fleet. As the world waits to fine-tune their algorithms, a previously-unknown challenger could leap ahead.