Intel is Buying Former Tesla Partner Mobileye for $15.3 Billion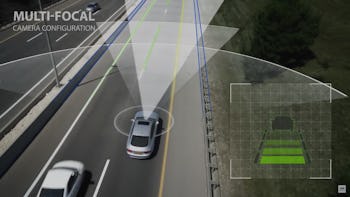 Getty Images / David Becker
Intel will buy Mobileye, the computer vision company that was the cornerstone of Tesla's first generation Autopilot systems, giving the software giant a firm foothold in the rapidly-expanding market for self-driving cars. Since splitting from Tesla in the summer of 2016, Mobileye has made great strides toward refining its autonomous vehicle systems through partnerships with other major automakers, and the deal — which boasts an equity value of $15.3 billion — is another huge financial success.
"Together we expect to be the global leader in autonomous driving," Intel CEO Brian Krzanich told investors in a conference call on Monday, stating that the pair would deliver "an end-to-end solution for the autonomous driving world."
Shortly after the sale, Mobileye's stock prices jumped to $61.31 per share, a 30 percent increase since the markets closed on Friday.
The merged group will develop driving assistance technologies alongside semi-autonomous and fully autonomous systems — and Mobileye is already well on the way. In December, the company released a video of an Audi driving without human assistance. The merger deal has been agreed by both companies' boards of directors and is expected to close within nine months' time. Prior to closure, the two companies will operate independently.
The deal places Intel at the heart of a rapidly-growing industry. By the company's own estimates, self-driving cars will produce 4,000 gigabytes of data per day in just three years' time. The opportunities presented by growing market are expected to be worth $70 billion by the year 2030, at which point level 3 and 4 autonomous cars are expected to reach over 30 percent of consumers.
Mobileye has around 660 employees and has played a key role in the driver-assistance hardware market since its founding in 1990. It used to supply its EyeQ computer vision units to Tesla for its semi-autonomous Autopilot system. After the relationship between the two deteriorated, Mobileye announced in July that it would stop supplying Tesla with units to focus on developing for third parties.
That same month, BMW announced it was working with Mobileye and Intel on getting autonomous cars on the road. The deal aims to get 40 autonomous test cars on the road during this year, with an end goal of developing a level 4 autonomous car for release in 2021.
In February, Mobileye signed deals with BMW and Volkswagen to get the company's data generation and mapping technology into cars from 2018. The mapping data will be used to help autonomous cars navigate the streets.
Beyond these deals, Mobileye plans for its EyeQ4 level 3 semi-autonomous driving system to enter production in 2018, and its EyeQ5 level 4 autonomous driving system to enter production by 2020.
After the Intel-Mobileye deal, a newly-combined global autonomous driving organization will be headquartered in Israel, where Mobileye is currently headquartered. It will be led by company chairman Amnon Shashua, who made headlines last year when he said that Tesla was "pushing the envelope in terms of safety" and that its moves would hurt the self-driving car industry.