Tesla Pickup Truck: Elon Musk Teases When to Expect Our First Real Glimpse
The pickup truck may be revealed surprisingly soon.
by James Dennin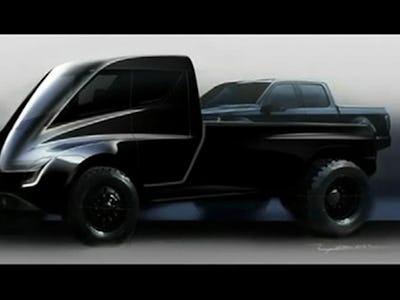 Tesla
Tesla CEO Elon Musk convened Tesla shareholders on Tuesday for the company's annual shareholder event. Most notably, Musk indicated that that the price point on solar roof installations could come in lower than expected, and teased an (admittedly trepidatious) target for formally unveiling the Tesla pickup truck.
So far, the pickup truck has been teased exhaustively. Musk has painted a picture of a one-of-a-kind vehicle, almost a passion project, which he says will look like something out of a sci-fi flick. The device was also briefly teased during the recent Model Y unveiling, though even editing the image revealed little more than a theatrically illuminated black box. According to Musk's remarks on Tuesday, however, that could soon change.
"The pickup truck, which we hope to unveil, hopefully this summer," Musk said, in a brief update about Tesla's product roadmap. "We spent a lot of time on designing the pickup truck, I think it's going to be great. I think it's the coolest car I've ever seen. Not everyone may share that opinion. But worst case scenario, we'll build a normal looking truck, no problem. This is something that, if you're driving it down a road, it'll look like it came out of a sci fi movie. It'll be really cool."
That's not all Musk said about the truck. During the question and answer portion of the session, Musk got a question from a horse-owner about the pickup truck's towing capacity. This has already been a sticking point for some pickup truck owners, even Tesla fans, as some of Musk's remarks about its "sci fi" appearance have raised concerns that the truck won't match conventional pickups on utility.
Echoing remarks he has made in the past, Musk said that the towing capacity would match that of the Ford F150, an iconic pickup truck that Ford has produced for decades, and whose towing capacity now ranges from 5,000 lbs. to 13,200 lbs., according to Ford's site. In a recent podcast appearance, Musk cited the F150 as the goal for the Tesla pickup truck's "truck-like functionality" but didn't give specifics.
"It will, it's designed to meter exceed an F150, so if an F150 can tow it the Tesla pickup truck should be able to do it," he told the shareholder.
It still seems like summer release date is highly tentative — Musk said both "hope" and "hopefully" before indicating the summer time frame — but Tesla has actually released a surprising amount of news during the previous two summers, sometimes during the company's quarter earnings calls but also on Twitter or in media appearances.
After all, the first Model 3 rolled out on July 7, 2017. Tesla also introduced the over-the-air update with Summon almost exactly a year later. Musk revealed the Model Y release date in July 2018, too, and last August, Musk announced Tesla's powerful and proprietary new chip that will some day enable full self driving.
It is, obviously, impossible to predict when Musk will pop into a fan's mentions and reveal some game-changing new feature, but the company will very likely host its next earnings call shortly after the quarter ends on July 31. That would peg Tesla's next big public announcement some time the week of August 5. Could we learn more about the pickup truck by then? It seems like a definite possibility.