Apple's Rumored AR Headset Might Be Well on Its Way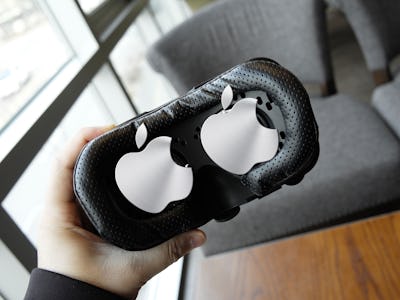 Flickr / TheBetterDay
https://www.inverse.com/article/45411-apple-rumors-ar-vr-headset/ampThere's no shortage of iPhone rumors, particularly those that pertain to the iPhone SE 2. But on Wednesday, enthusiasts identified some subtle, but revealing hints about what might be underway on one of the company's most ambitious projects yet: It's augmented reality headset — known as "T288."
The first came in the form of a job listing for a "3D UI Frameworks Engineer" posted on Apple's career board. And the second was a redditor claiming that there was a lot of chatter regarding Apple's mysterious T288 project at the Augmented World Expo in Santa Clara. Here's what we know about the still mysterious Apple augmented reality apps and rumored hardware.
What's the Deal With Those Apple Augmented Reality Job Postings?
The job post stated that Apple is looking for someone to "drive the next generation of interactive experiences for our platform." The description went on to explain that the person hired for this position would use AR and VR technology, offered in Apple's ARKit, to build software that would influence how developers and customers interact with their products. This alludes to how these developments might shape the future of Apple devices.
In a Reddit thread discussing the job post, user PhoenixUNI claimed he heard a lot of talks about the potential headset at AWE 2018 — a major annual conference for all things AR and VR.
"Currently at Augmented World Expo in Santa Clara. It's a pretty hot rumor that Apple will be entering the AR glasses market in 2020/21," they said. "It's been brought up in at least 5 of the sessions I've been a part of today."
All of this comes after about a month of radio silence regarding Apple's AR efforts. We heard back in April that Apple had filed a patent with the United States Patent and Trademark Office that would beam near-infrared light into a mirror and bounce it into the user's eyes to measure their eye movements. This would enable a whole new kind of visual interaction with AR and VR tech.
There was also a bombshell report by CNET that same month that laid out the concept for a headset that would use an 8K display for each eye. High-end VR rigs — like the HTC Vive — clock in at 1,080 by 1,200 pixels per eye. The article claimed that is project could launch as early as 2020, which would match up with what PhoenixUNI wrote on Reddit.
While some new AR features are rumored to be announced during WWDC on June 4, Apple fans everywhere will be anxiously waiting to hear about what could be one of the company's most exciting and carefully guarded projects.