Facial Coder Tries to Analyze What NBA Stars Are Really Feeling
Apparently, LeBron James is feeling blue.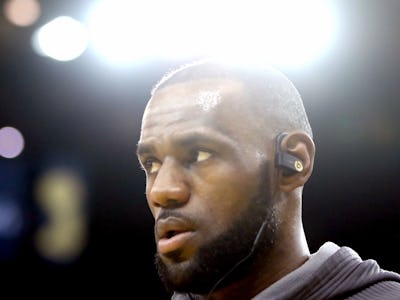 Getty Images / Ezra Shaw
Facial coder Dan Hill has been called a secret weapon by the team psychologist of the Milwaukee Bucks. He's also been accused by other scientists of using "invalid" techniques that are "prone to overreach."
Inverse reached out to Hill to get a better understanding of his methods and ask for his latest insights on the NBA (there's no off-season for analysis!).
Hill's approach is based on an intuitive idea with at least some grounding in science: that people reveal their feelings through facial expressions. "There are patterns of expression that people can and indeed do tend to have," he tells Inverse. "If one pulls in what these core emotions mean or what the range of plausible meanings are … that does give you some ability to begin to look at likely attitude."
Hill, who has a Ph.D. in literature, started his consulting business in the late nineties after meeting psychologist Paul Ekman and learning about his research into expression analysis. Ekman, too, claims you can spot a wide range of emotional states with proper training: looking not just at smiles and frowns but also at dozens of facial muscle activations that are correlated with joy, disgust, fear, and more.
Yet Hill's analysis goes beyond published research, naming emotional states that Ekman never mentions and creating personality profiles that depend significantly on intuition. It would seem fair to say, then, that Hill's approach is more of an art than a science.
Despite his unverifiable methods, Hill has found many people willing to pay for his insights. His past clients include more than 50 large companies and sports teams in the NBA, MLB, and NFL, with assignments ranging from market research to scouting.
For each of the following analyses, Hill looked at 30+ recent images of an NBA star in different contexts. He then counted whenever he saw different expressions and used this data to generate profiles. His charts and our summary of his analysis are presented below: You can decide for yourself if he's onto something.
Stephen Curry
Stephen Curry is full of joy, says Hill, showing nearly twice as much as the eight other people in this series. Interestingly, his frustration score is also very high, second only to Gregg Popovich. For the current NBA champion and two-time MVP, that seems to be a powerful combination.
Kevin Durant
Kevin Durant is apparently gloomier than his current partner (Curry) and closer in disposition to his old partner (Russell Westbrook), notes Hill. Perhaps a few years of winning will brighten him up.
LeBron James
LeBron James is apparently rather gloomy too, though he puts this to good use. James "feeds off a sense of being disappointed and disgusted by any signs of mediocre play," says Hill.
Isaiah Thomas
Isaiah Thomas, who recently joined James on the Cleveland Cavaliers, brings a starkly different mindset. His score for satisfaction is the highest of everyone in this analysis — perhaps something to do with the 5'9" star feeling like he's the best player in the world.
Kyrie Irving
Kyrie Irving, who recently traded places with Thomas and joined the Boston Celtics, supposedly demonstrated very high levels last season of both anxiety and curiosity. Both elements, perhaps, of a creative point guard: or someone who was ready to change teams.
James Harden
James Harden, the MVP-runner-up on the Houston Rockets, shows high levels of curiosity, frustration, and anxiety.
Chris Paul
Chris Paul, newly traded to the Rockets, supposedly matches Harden exactly on the overall positivity and negativity. The demanding point guard also registers particularly high on feelings of dislike.
Kawhi Leonard
MVP-runner-up Kawhi Leonard of the San Antonio Spurs is known for having a quiet personality and not engaging much with the media. Hill suggests a deeper reason, finding that Leonard has a very negative disposition, with high scores for frustration, sadness, and anxiety. Still, even this demeanor can be a positive: "[Sadness] can make one empathetic and contemplative and reflective, and that's some of what I see in Leonard," Hill says.
Gregg Popovich
At least Leonard's coach, Gregg Popovich nearly matches him in negativity. Popovich, who is tied for an NBA-best 20 winning seasons in a row, registers an extremely high frustration level. That must be what perfectionism looks like.
For more analysis from Hill, check out his blog, Faces of the Week, and look out for a book from him next year analyzing celebrities.
Don't Miss: Why Musicians Lose Control of Their Faces