Explore Your 5 Universal Emotions With the Dalai Lama's New Website
The new Atlas of Emotions is an engaging online resource.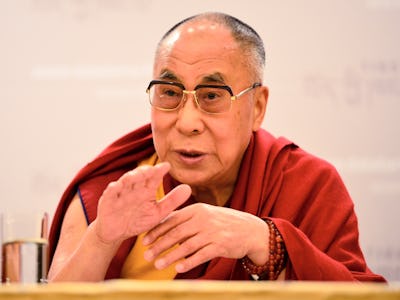 Getty Images/Thomas Lohnes
Emotions: we all got 'em, but some of us choose to pay them more attention than others. Emotions are complex and capricious, which can make them difficult to understand, but there are universal truths about their origins and effects on daily life that can make grasping them a bit easier.
The Dalai Lama, a compassionate preacher of inner peace who probably has a firmer hold on his emotions than most of us, has launched the Ekmans' Atlas of Emotions, an online resource designed to help people better understand their emotions by uniting them under universal truths concluded from scientific data.
"This is not just for knowledge, but in order to create a happy human being."
The Dalai Lama may be a religious leader, but his teachings about compassion and self-awareness are of great use to secular people, too. While the Dalai Lama would be overjoyed to learn that you subscribe to Buddhist beliefs, his overarching goal is to help everyone attain inner peace, religion aside.
The Atlas of Emotions was developed with American psychologist Dr. Paul Ekman with the hope that universal truths based on science would help religious and secular people make better sense of their emotions.
In a New York Times article announcing the launch of the Atlas of Emotions, the Dalai Lama asserts that everyone, regardless of religious beliefs or age, can benefit from exploring this "innerness." "This is not just for knowledge, but in order to create a happy human being. "Happy family, happy community and, finally, happy humanity," he said.
As the Dalai Lama isn't exactly a technology whiz, he enlisted the help of Ekman and his daughter Eve, a postdoctoral scholar, to organize a distinct range of human emotions for $750,000.
Ekman — who assisted on Pixar's Inside Out, an animated children's movie with surprisingly mature themes about feelings — surveyed 149 scientists in an attempt to discern any consensus about human emotions, their triggers, and the moods they elicit.
While it was no easy task to get that many specialists to reach an agreement, Ekman was able to boil down the data into five basic "continents" of emotion: anger, fear, disgust, sadness, and enjoyment. On the site, each appears as a colorful, pulsing puddle on the front page of the Atlas.
There are plenty of therapeutic resources online, but the Atlas of Emotions boasts an enticing dichotomy that separates it from the rest: it's driven by the Dalai Lama's spiritual quest for inner peace but grounded in scientific data.
When it comes to the complexity of a quest like understanding our emotions, it's helpful to have our approaches fall somewhere between intriguing spirituality and scientific truths. Oh, and it works just fine on your smartphone — just don't look at it while in bed.
The goal of the Atlas of Emotions seems to extend outward, too: by learning more about ourselves, we can get a better grasp on the actions of the people we love and even those we clash with. It may feel as though our emotions are often riddled with mystery, but the Dalai Lama's new emotional map is here to help. Debunk the mystery of you today.