Kyrie Irving is Traded to the Boston Celtics, Defying the Hive-Mind
Irving is going to Boston.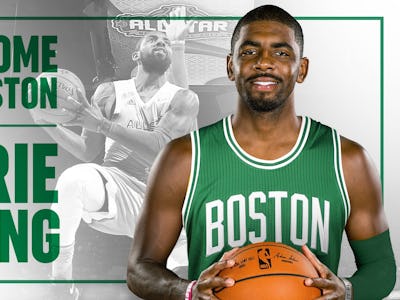 Getty Images / Ezra Shaw
Update, August 22: Kyrie Irving is now a member of the Boston Celtics, the club announced via NBA.com tonight. In exchange for Irving, the Cleveland Cavaliers will add Isaiah Thomas, forward Jae Crowder, center Ante Zizic and the rights to the Brooklyn Nets' 2018 first round pick to their ranks
"Kyrie is one of the best scorers in the NBA," said Celtics President of Basketball Operations Danny Ainge in a statement. "He has proven that on the biggest stage, the NBA Finals, the last three years," "He's been an NBA Champion, an Olympic Gold Medalist, and a four-time All-Star. For all he's accomplished, we think his best years are ahead of him."
While our hive-mind predicted Irving had a 67 percent chance to stay in Cleveland, the 33 percent chance won out.
Cleveland Cavaliers star Kyrie Irving requested a trade in late July, reportedly because he wants to carve out his own identity away from LeBron James's shadow — or maybe because he thinks James is leaving in a year, anyway, and doesn't want to be stuck on a rebuilding team.
Unlike, say, disgruntled New York Knicks star Carmelo Anthony, Cleveland isn't under all that much pressure to trade Irving. He still has two years left on his contract, and he represents a key part of the league's most plausible challenger to the Golden State Warriors. If the Cavs want to hang onto Irving heading into next season, they certainly can. But will they?
That's the question we asked a swarm of Inverse readers with the help of Unanimous A.I. In a nutshell, each participant controlled a little golden magnet below, and used it to drag the puck toward the answer they thought was the most likely outcome. Also, the closer a user puts the magnet to the puck, the greater the pulling force. This is where the hive-mind comes in: If a user sees the puck move toward an outcome, it triggers a psychological response. The user starts to readjust their decision-making, building toward a consensus. To read more about how Unanimous A.I. uses swarm A.I. to reach scarily accurate predictions, check out our previous article on how Unanimous A.I. uses "swarm intelligence" to make predictions.
Our swarm thought there was at 67 percent, or a two in three chance that Irving would stay with the Cavaliers. That may be a reflection of how tricky it is to work out a trade to one of his preferred destinations. Irving listed the New York Knicks, Miami Heat, San Antonio Spurs, and Minnesota Timberwolves as his top choices — not that Cleveland has to pay any attention to Irving's wishes here — and only Minnesota has a relatively straightforward path to making a trade if it wants to part ways with Andrew Wiggins, who the Cavs drafted and traded to the Timberwolves back in 2014. All things considered, it may be simplest for Cleveland to sit tight and see how things play out, and that's what our swarm thinks is the likeliest outcome.
Want to join us? Participate in the next Inverse Predictions experiment here.
More "Swarm AI" predictions from the Inverse NBA series: