'Swarm A.I.' Predicts the NBA's Next Top Scorer
Dion Waiters feels very disrespected he wasn't included.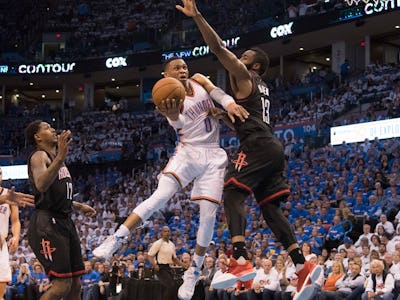 Getty Images / J Pat Carter
Russell Westbrook led the NBA in scoring last season, pouring in 31.8 points per game while leading the Oklahoma City Thunder to 47 wins after the departure of star teammate Kevin Durant. It's easy to forget how many points Westbrook scored, given his total statistical dominance. He joined Oscar Robertson as the only players in NBA history to average a triple-double for an entire season, earning Most Valuable Player honors for his herculean efforts.
But will Westbrook repeat as scoring champ in the upcoming season? There are plenty of other elite scorers out there, especially his other old Thunder teammate James Harden, who are both entirely capable of putting up tons of points every night. Inverse took last year's top six finishers in points for the game and had Unanimous A.I. enlist a swarm of our readers to predict who would lead the league in 2017-18.
In a nutshell, each participant controlled a little golden magnet below, and used it to drag the puck toward the answer they thought was the most likely outcome. Also, the closer a user puts the magnet to the puck, the greater the pulling force. This is where the hive-mind comes in: If a user sees the puck move toward an outcome, it triggers a psychological response. The user starts to readjust their decision-making, building toward a consensus. To read more about how Unanimous A.I. uses swarm A.I. to reach scarily accurate predictions, check out our previous article on how Unanimous A.I. uses "swarm intelligence" to make predictions.
Who Will Be the NBA's Top Scorer This Season?
The swarm has pretty overwhelming faith in Russell Westbrook, which, after last season, is entirely reasonable. While there did seem to be some support for Harden and Boston Celtics star guard Isaiah Thomas, it didn't take long for the swarm to settle on Westbrook.
That's an impressive vote of confidence, given the swarm made its prediction after Thunder traded for Paul George to be Westbrook's new running mate. While the former Indiana Pacers star's reputation is more as an elite two-way player than a big scorer, you might think the presence of a second star would cut into Westbrook's scoring totals.
But then, the same logic would apply to Harden, who will be joined by all-time great point guard Chris Paul in the Houston backcourt next season, and to Thomas, whose Celtics added Utah Jazz forward Gordon Hayward in free agency. Westbrook did also lead the league in scoring in the 2014-15 season, back when Kevin Durant was still on the team, but that feat comes with a major asterisk; Durant was limited to just 27 games because of injuries. If Westbrook leads the league in scoring again this year as part of a more balanced team, that might be an even more impressive feat than his previous two scoring titles.
Want to join us? Participate in the next Inverse Predictions experiment here.
More "Swarm AI" predictions from the Inverse NBA series: