'Swarm A.I.' Predicts LeBron James is Taking His Talents to the Lakers
Go west, LeBron, go west.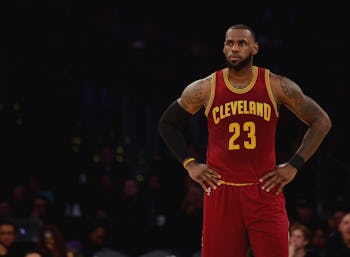 Getty Images / Harry How
LeBron James is one of the five best players in NBA history, and that might be underselling his greatness. He has won three titles, including bringing a championship home to Cleveland in his second stint with the Cavaliers. But James is a free agent again after the coming season, and the rumors are he could once again take his talents elsewhere.
For what it's worth, James did say he wanted to finish his career with the Cavaliers when he announced his return in a 2014 Sports Illustrated article, though that was before owner Dan Gilbert made a mess of the front office, star teammate Kyrie Irving demanded a trade, and the Golden State Warriors ascended to a higher plane of basketball consciousness.
As James himself isn't about to reveal what he's thinking, Inverse enlisted Unanimous A.I. and a group of 40 Inverse readers/NBA fans to predict which team James will suit up for when the 2018 season begins.
In a nutshell, each participant controlled a little golden magnet below, and used it to drag the puck toward the answer they thought was the most likely outcome. Also, the closer a user puts the magnet to the puck, the greater the pulling force. This is where the hive-mind comes in: If a user sees the puck move toward an outcome, it triggers a psychological response. The user starts to readjust their decision-making, building toward a consensus. To read more about how Unanimous A.I. uses swarm A.I. to reach scarily accurate predictions, check out our previous article on how Unanimous A.I. uses "swarm intelligence" to make predictions.
Where Will LeBron James Play the Season After This One?
Not much drama there: While you can see a decent-sized minority thought James would stay with the Cavaliers, the swarm still made a swift, decisive move to the Los Angeles Lakers. There's little concrete reporting on the LeBron-to-Lakers possibility, but ESPN reporter Adrian Wojnarowski recently wrote James is "intrigued" by such a move. The Lakers should be able to sign two max-level players while retaining a portion of their core of promising young players, giving James a potential running mate like Paul George alongside players like Rookie of the Year favorite Lonzo Ball.
There aren't too many other realistic possibilities for James, and the swarm largely ignored the other possible choices. James joining the Golden State Warriors would essentially end the NBA as we know it, while the Los Angeles Clippers, Chicago Bulls, and New York Knicks are big-market teams in varying states of disarray.
Want to join us? Participate in the next Inverse Predictions experiment here.
More "Swarm AI" predictions from the Inverse NBA series: