'Swarm A.I.' Predicts the NBA's Rookie of the Year
One particular loud father is going to be extremely happy.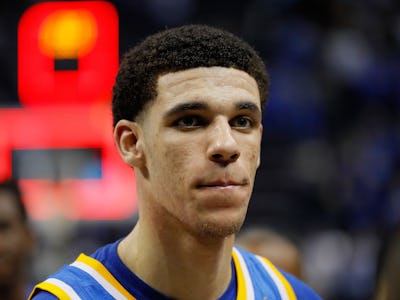 Getty Images / Kevin C. Cox
The incoming crop of NBA rookies is considered one of the best in years. Pretty much anything would be an improvement over last year's, when the most impressive "rookie" was Philadelphia 76ers center Joel Embiid, who was actually drafted in 2014, sat out two years because of injuries, played on a minutes restriction, and still got shut down after just 31 games.
There are several rookies poised this year to make a big impact in some wildly different situations. Top pick Markelle Fultz could be the point guard needed to unlock the fruits of the Philadelphia 76ers' oft-injured process, while Lonzo Ball and his loud father LaVar openly campaigned for him to be the new face of the Los Angeles Lakers. Third overall pick Jayson Tatum is the latest promising young wing to join a stacked Boston Celtics team. Fourth pick Josh Jackson is the latest addition to the Phoenix Suns' quietly promising youth movement, and fifth choice De'Aaron Fox seems willing to embrace the task of fixing all that ails the Sacramento Kings.
But only one player can be voted Rookie of the Year. Using Unanimous A.I., Inverse asked a group 40 NBA fans/Inverse readers to predict next season's top rookie.
In a nutshell, each participant controlled a little golden magnet below, and used it to drag the puck toward the answer they thought was the most likely outcome. Also, the closer a user puts the magnet to the puck, the greater the pulling force. This is where the hive-mind comes in: If a user sees the puck move toward an outcome, it triggers a psychological response. The user starts to readjust their decision-making, building toward a consensus. To read more about how Unanimous A.I. uses swarm A.I. to reach scarily accurate predictions, check out our previous article on how Unanimous A.I. uses "swarm intelligence" to make predictions.
Who Will Win 2018 NBA Rookie of the Year?
Lonzo Ball came away the predicted winner, but there was plenty of disagreement. The biggest cluster of dissenting voices appear to be focused on Jayson Tatum, with smaller groups opting for the other choices. After a disastrous opening night, Lonzo Ball was one of the major stars of the NBA's Summer League in Las Vegas, taking Most Valuable Player honors.
He's also perhaps in the best situation to win Rookie of the Year. Unlike Tatum, he won't have to fight for minutes on an already elite team, and the fact that he's playing for the Lakers — and has his heel wrestling manager of a father as his hype man — means he figures to get lots more media attention than Jackson in Phoenix or Fox in Sacramento. Fultz might be Ball's biggest rival for the award, but the 76ers point guard faces competition on his own team. Ben Simmons, the top pick in 2016, sat out all of last season with his own injuries, and he figures to be a major contender for the award in his own right, assuming he and Fultz don't cancel each other out.
Want to join us? Participate in the next Inverse Predictions experiment here.
More "Swarm AI" predictions from the Inverse NBA series: