Lawyer: Sarahah Looks Safe, but So Much Is Unknown
The anonymous messaging app is a big question mark for security.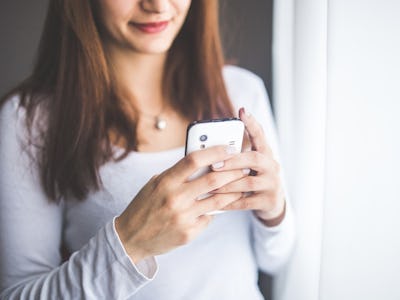 Pixabay
Over the past few days, Sarahah has rocketed in popularity as the new hot way for teens to send sneakily anonymous messages over social media.
The app is easy to sync with popular apps like Snapchat and Instagram, and it lets users send anonymous messages to one another. But its popularity with teens and potentially underage users, as well as the app's potential to facilitate online bullying, has a lot of parents and users worried. So is Sarahah safe? That depends.
There are two facets to evaluating the safety of an online app like Sarahah. First, does the app provide users with a "safe" online experience? In other words, could the content of the app prove to be harmful to users, or expose them to hatred or undue harassment from other users? Second, is the app "safe" from a digital security standpoint?
Is the Experience Safe?
Every modern user of the internet has almost undoubtedly, at some point, run up against the uglier side of life online. Social media companies like MySpace, Facebook, Twitter, and so many others struggle constantly to curb online harassment. For the most part, it's become almost impossible to insulate an active social media user from the occasional negative experience online. But Sarahah adds the additional issue of anonymity to the mix, which removes all the social barriers that typically keep people from being horrible to one another in real life. The app has already become a major breeding ground for cyberbullying, much like other anonymous messaging apps and sites like ASKfm, Whisper, Yik Yak, and Secret.
"Once you give people anonymity, they say all sorts of awful things," Ben Zhao, a professor of computer science at the University of Chicago who has researched harassment in Whisper's online community, told Inverse for a prior story. "If they [Sarahah] don't correct this problem, I'd be surprised if it stuck around in its current form."
The call on this one is pretty simple: Is Sarahah safe from a personal standpoint? If you or a loved one has been the victim of bullying or harassment, either online or off, then no, it is not. Sure, it's possible to mute users and report messages. But as every other service has discovered, that won't stop people who really want to make your life hell. There's literally no point in exposing yourself to further harassment and the pain it causes by using the app.
What's Sarahah Doing With My data? Is It Secure?
This question is a bit more nuanced. Sarahah's privacy policy, which is only accessible if you tap the hyperlink next to an "agree to terms of service" box when signing up, is vaguely worded and relatively short. To figure out what was going on, Inverse called Jonathan Turco, a partner at Klein Moynihan Turco LLP, a New York law firm that specializes in digital privacy law and internet marketing law. We emailed Sarahah's privacy policy (which you can read in full at the bottom of this article) to Turco and asked him to have a look.
Turco says that on paper at least Sarahah's sparse privacy policy is "pretty consumer-friendly." The app claims it doesn't collect personal data. It also claims it won't sell any data you provide to a third party without prior and written consent, other than "bulk data used for statistics and research," which wouldn't have any identifying characteristics. "There's nothing in the privacy policy itself that would give me pause," Turco says, running through a list of red flags that he looks out for like navigation data collection or intent to rent, sell, or share data.
The only cause for concern, Turco says, is that Sarahah is basically a complete unknown. Created by Saudi programmer Zain al-Abidin Tawfiq, the app launched in February and first gained a following in the Middle East. But it's not made by a major company. It's just a random app that went viral.
"Any time you submit data to a website, they can do whatever they want with it," Turco says. "It might not be legal, but just because the privacy policy says that your data is protected doesn't mean that the other party has to respect their side of the agreement."
Essentially, Turco says his only note of caution is in trusting a new company "without an established reputation or a lot of customer experience." Most of the user feedback has centered around Sarahah's facilitation of online bullying, not privacy concerns, but Turco's advice is to always take a pause before signing up for a new app from a relatively unknown developer.
Fortunately, it's pretty easy to delete your account.
For reference, here's Sarahah's privacy policy in full, copied from the app during signup.
Privacy Policy
We understand your fears and concerns regarding the privacy of your data on the internet. We have prepared this policy to help you understand the nature of the data we collect from your when visiting Sarahah and how we use this personal data.
Navigation
We didn't design this website to collect your personal data from your computer while browsing this site. But will only use the data you provided with you being aware and your personal desire.
IP
At any time you visit any website on the internet including this website, the hosting server will record your internet protocol (IP) and the date and time of your visit and the type of the browser that you use and the URL of any website which referred you to this site on the web and the website may record it for different purposes.
Network Surveys
The surveys that we conduct on our network allows us to collect specific data like the data collected from your regarding your view and feeling about our website. Your responses are of great concern and an area of appreciation as it helps us to improve our site and you have the full freedom and choice to provide data related to your name and other data.
Links to External Sites
Our website may contain links to other sites in the internet or advertisements from other sites like Google AdSense and we are not considered responsible for the data collection methods of these websites. You can find the confidentiality policies and the content of these websites that can be accessed through any link on this site. We may be assisted by third party advertising companies for the reason of displaying ads when you visit our website. These companies have the right to use information about your visit to this website and other websites (excluding the name, address or email or phone). This is to provide ads about products or services that you care about.
Disclosure of Information
We will always maintain your privacy and the confidentiality of your personal data that we get. We will never disclose the this information unless there is a law requirement or with good intention if we feel that this procedure is required or wanted to meet legal requirements. Or to defend or protect the ownership rights of this website or other parties benefiting from this site.
Required Data to do the necessary procedures from your side
When we need any data from you. We will ask you for your consent. As this data will help us contact you and satisfy your orders whenever possible. We will never sell the data you provide to any third party as part of personal marketing without your prior and written consent unless t was a part of bulk data used for statistics and research and it won't contain any data to identify you.
When Contacting Us
We will consider all data provided by you confidential. The forms on our network require data that can help us improve our site. We will use data provided by you to answer all of your questions, observations, or orders through this site or other sites belonging to this site.
Disclosure of Information to Third Parties
We will not sell, trade, rent or disclose any information to any third party out of this website or sites out of our network and we will only disclose information when ordered by a legal or organizational entity.
Modification of Data Confidentiality and Privacy Policy
We have the right to modify the items and conditions of data confidentiality and privacy policy if needed and when adequate
Contacting Us
You can contact us using the methods described in the "Contact Us" page
Finally
Your concerns and fears regarding data confidentiality and privacy is a highly valuable thing to us. We hope that we will address these concerns by this policy.