The Surprising Conclusion From the Biggest Polyamory Survey Ever
It's a win-win all around.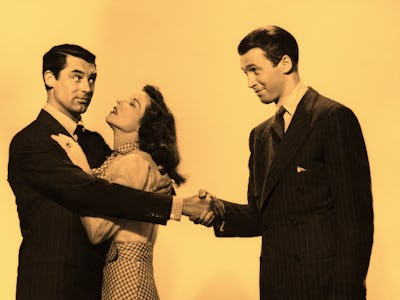 Metro-Goldwyn-Mayer
Historically, polyamory has been seen as a surefire sign of a failing relationship: If your partner is sleeping with others, even with your permission, your relationship is fizzling towards its demise. If you couldn't satisfy your partner, your relationship was doomed.
But as of late, polyamorous relationships — sometimes referred to among married people as "open relationships" — have gotten a boost of recognition as a viable, healthy way to maintain commitment. And a study published earlier this summer in PLOS One suggests that polyamory actually forms the foundation of stronger primary relationships.
It's a conclusion that is at once surprising and revolutionary, mostly because polyamory is a practice that's almost universally stigmatized as "not normal," and in fact detrimental to the success of a relationship. But modern society is becoming much more accepting of non-monogamous relationships, says co-author Justin J. Lehmiller, director of the social psychology graduate program at Ball State University.
"I don't think it's because polyamory is more accepted," he tells Inverse, saying there continues to be a pervasive bias about the nature of and reasoning behind polyamory. "People are more interested today with consensual non-monogamy."
That openness has allowed Lehmiller and his colleagues to collect information from 3,530 self-identifying polyamorists, over half of whom were American.
Lehmiller points out that polyamory has various definitions. The standard definition of consensual non-monogamy — what we call polyamory — is a relationship in which partners agree that they and/or their partners can enter a romantic or sexual relationship with a third party. What complicates this definition is whether the relationship veers from romantic to sexual and whether one or both partners are polyamorous, extending from just one other partner to a "network" of partners.
The team of researchers asked participants online about their relationships and their partners regarding intimacy, communication, companionship, and attraction to both their primary and secondary (the polyamorous) relationship. They found that not only were the partners of polyamorous people accepting of their secondary relationship, but that the primary relationship was supposedly made better because of polyamory.
"People were less likely to keep those relationships secret," Lehmiller says. "That means the primary relationship got better investment, more acceptance, and more communication." This, despite the fact that the polyamorous individual was usually reporting more sexual activity with the secondary partner.
It's a rare win-win for both polyamorous couples and social scientists like Lehmiller who study non-traditional relationships.
Lehmiller said that studies on polyamory have traditionally suffered from either tiny sample sizes or unreliable answers given the stigmatized nature of polyamorous relationships. But Lehmiller and team contacted participants through polyamory interest groups and sites, explicitly being transparent about study techniques and ensuring the anonymity of participants. Thanks to this approach, Lehmiller says they achieved what might be the largest and most accurate polyamory survey to date.
To Lehmiller, the fact that more partners were satisfied with their secondary relationships, the more partners reported being committed to primary relationships is what's most interesting. "All these relationships can benefit one another," he says. "People are tempted to assume that if you have sex with someone else you are less committed. But we have a demonstration here of the Coolidge Effect" — the idea that our sexual arousal and response habituates with the same activity over time, or boredom.
That's not to say that Lehmiller and his colleagues are suggesting polyamory is the cure to the seven-year itch, or that monogamy is an institution that doesn't work. In fact, Lehmiller says, his research suggests exactly the opposite: That relationships don't have a single prescription for success, and that the adage that different couples work differently is true. "There are some people who are perfectly content with monogamy and have satisfying, passionate relationships," Lehmiller says. "Monogamy works for some people. But I'm hesitant to say that there's one kind of relationship that is more natural than another."
The American-focused study — however simple in its construction — also offers fascinating insights about the range of sexual habits. First, it shows that polyamorous people are across the country, in every state and region and across genders. Polyamorous people are your neighbors and friends, and they are found across the political and religious affiliations. What unites them is that they are nonconformists, willing to try something new. "Does that come first, or is that the result of a polyamorous relationship? We don't know," Lehmiller says.
If anything, the survey proves that humans weren't necessarily "designed" to be monogamous, feeding into the debate of whether or not humans are actually a lot more like their animal counterparts in how they mate. That's a query that will take a long time for us to answer, and before then, Lehmiller says, we have to understand non-traditional relationships more.
The main takeaway of the groundbreaking study, Lehmiller says, is this: "There's not a model or script for how you navigate your relationships. It's whatever makes sense to you."
Abstract: In consensually non-monogamous relationships there is an open agreement that one, both, or all individuals involved in a romantic relationship may also have other sexual and/or romantic partners. Research concerning consensual non-monogamy has grown recently but has just begun to determine how relationships amongst partners in consensually non-monogamous arrangements may vary. The current research examines this issue within one type of consensual non-monogamy, specifically polyamory, using a convenience sample of 1,308 self-identified polyamorous individuals who provided responses to various indices of relationship evaluation (e.g. acceptance, secrecy, investment size, satisfaction level, commitment level, relationship communication, and sexual frequency). Measures were compared between perceptions of two concurrent partners within each polyamorous relationship (i.e., primary and secondary partners). Participants reported less stigma as well as more investment, satisfaction, commitment and greater communication about the relationship with primary compared to secondary relationships, but a greater proportion of time on sexual activity with secondary compared to primary relationships. We discuss how these results inform our understanding of the unique costs and rewards of primary-secondary relationships in polyamory and suggest future directions based on these findings.