Guys Who Love Gay Jokes Need To Check Masculinity, Say Scientists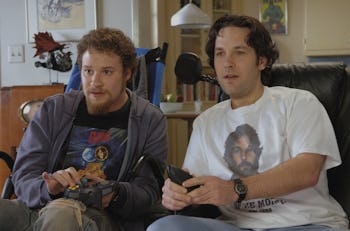 40 Year Old Virgin
A classic exchange in the film The 40 Year Old Virgin captures the casually sexist humor that continues to pervade pop culture. In the scene, Seth Rogen and Paul Rudd one-up one another with "You know how I know you're gay?" one-liners until Rudd delivers the final blow: "You like Coldplay."
If Rogen and Rudd are simply representing what average straight guys look like when they're out of earshot of anyone remotely woke, then average straight guys everywhere are in dire need of some self-reflection, a psychologist at Western Carolina University argues. Emma O'Connor's latest study, published in the journal Sex Roles, suggests that the straight men who engage in these sorts of sexist jokes do so to reaffirm their sense of masculinity.
Her research suggests that when a straight guy makes a joke about what society thinks constitutes being "gay" — such as liking Coldplay — he's reaffirming his sense of masculinity, as if to say: Only gay people like Coldplay, and I don't like Coldplay, so I'm definitely not gay.
"It appears that by showing amusement with sexist and anti-gay humor, such men can distance themselves from the traits they want to disconfirm," O'Connor explained in a statement. Her observations are in line with previous work suggesting that people use this sort of "disparaging humor" to create a clearer divide between "us" and the disparaged "them."
Her arguments are supported with data from her most recent study, in which she aimed to get a snapshot of the kind of straight man who commonly made jokes about gay men and women — and when they did so.
In her first experiment, she asked 166 straight American men to take part in a role-playing game: After filling out a questionnaire that was meant to assess whether they had a "masculine" or "feminine" personality, the men were told to imagine themselves as the "new guy" at an online comedy streaming company. In this context, some of them received "threatening" feedback about themselves — that is, notes suggesting that their personalities were feminine. Then, the men were asked to rate the funniness of sexist, anti-gay, anti-Muslim, and neutral jokes, believing that their answers would help mitigate what the feedback said about them in the eyes of their manager.
O'Connor's theory was that men who felt their masculinity was threatened by the feedback would find the sexist and anti-gay jokes funnier because the butt of those jokes is the antithesis of masculinity. Turns out she was right — the threatened males did say those jokes were funnier. Interestingly, and as expected, they didn't find the anti-Muslim and neutral jokes any more humorous (but perhaps if their attitude toward Muslims was threatened, they would).
The second experiment, which involved 221 men, was the same as the first, except that the men were asked to rate the extent to which they thought their joke ratings would affect their manager's judgment. Again, men who felt their masculinity was threatened were more amused with the anti-gay and sexist jokes and furthermore showed that they believed that "their amusement with sexist and anti-gay humor would reaffirm their threatened masculinity."
It's not up to O'Connor to decide what straight men can find funny, but she can point out the contexts in which they find certain things funny and draw conclusions about what their senses of humor say about them. In the moment, heterosexual men may not think too much about laughing at a gay joke or a joke that disparages women, but taking a step back and considering the context seems to show that they tend to do so when they're feeling especially threatened about their masculinity, which O'Connor refers to as "precarious manhood."
Recently, comedian Dave Chappelle was lambasted by critics for making a series of gay jokes in his new Netflix specials; Complex called him out for repeatedly showing "disdain for anyone of a feminine persuasion." Relatedly, comic Lavell Crawford recently called being gay "still fucking weird." O'Connor's work not only gives us an explanation for why these sorts of jokes persist but also suggests how we can curb them from being made in the first place. The core of the problem lies in how straight men interpret masculinity in the way they do.
In her paper, O'Connor quotes a line from the legendary, traditionally hyper-masculine American novelist Norman Mailer to describe how men perceive manhood: "Masculinity is not something given to you, but something you gain. And you gain it by winning small battles with honor." Maybe changing what those "battles" entail — standing up to offensive jokes, perhaps? — might help give masculinity its much-needed rebrand.