Newspaper Pits Teen Scientist Ahmed Mohamed vs. Anti-Muslim Mayor for 'Texan of the Year'
Both had "uncommon impact" on debate over Muslims in America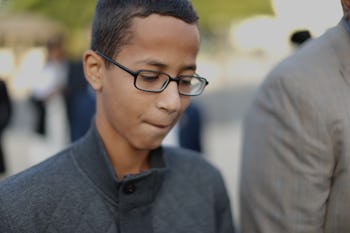 The Dallas Morning News has picked two finalists for its Texan of the Year who could not be more different, appearing to, well, pit them against each other: Ahmed Mohamed, the teenage scientist who was arrested after his homemade digital clock was assumed by his teachers and the cops to be a bomb, and Beth Van Duyne, the mayor of his former hometown of Irving, Texas, whose statements about Muslims are bigoted.
Van Duyne was one of the most prominent antagonists in the story of Mohamed's arrest; she resolutely maintained that he had intentionally designed the clock to resemble a bomb. The newspaper reported that she was on record "repeatedly hinting that there was more to the story than the public knew."
Although Mohamed has since left Irving to accept a full scholarship studying at a university in Qatar, the newspaper decided the student behind the hashtag #IStandWithAhmed should still qualify as a finalist. Mohamed received extensive displays of support from around the world following his arrest in September, including being invited to the White House.
Van Duyne also received prominent coverage but of a very different nature. After a mosque in Dallas established an "arbitration panel" similar to those employed by religious groups around the country, Van Duyne took to Facebook to condemn it, calling it a "Shariah court."
She later followed up on these efforts when she urged the City Council to pass a resolution encouraging the Texas legislature to pass a law explicitly forbidding the use of Shariah law by state courts. Though the Council resolution passed, the legislature bill failed, at least in part because the practice is already illegal.
The Dallas Morning News will reveal the official Texan of the Year on their Sunday Points front page December 27, according to Editorial Page Editor Keven Ann Willey, though she'd like to stress the designee is not necessarily a winner.
"The Texan of the Year (not really a "winner" but Texan w/most uncommon impact for good or ill)," Willey posted to Twitter.
Willey also posted to Twitter that it wasn't the newspaper's intention to make the two face off — although that's exactly what they are doing here:
"We weren't pitting them against each other so much as noting that both had 'uncommon impact' around the same topic this year," Willey writes.
Time magazine infamously announced that Adolf Hitler was its "Man of the Year" in 1938 (it famously put the late dictator on one of its "X" covers in 1945), and since then, publications large and small have trolled the reading public by flipping an assumed honorific on its head. Maybe it's time to rename it, or at the very least avoid stoking the flames of anti-Muslim, anti-science sentiment during a time when science is ignored during presidential debates (or is just laughably wrong) and when anti-Muslim sentiment is maddeningly high.