#IStandWithMohamed Named One of 2015's Most Influential Twitter Moments
Few would have guessed that 2015 would be remembered for a high school science project.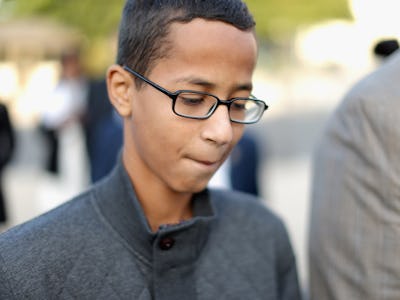 Few would have guessed that 2015 would be remembered for a high school science project. But with the release of Twitter's 2015 Year in Review, Ahmed Mohamed, the Texas 14-year-old who was arrested when teachers and police confused his clock for a bomb, may have accomplished just that.
What made history though was not only Ahmed's arrest but also the massive display of support he received from people all over the world. The hashtag #IStandWithMohamed quickly took over Twitter, and Ahmed began fielding some A-list invitations: President Obama invited him to the White House and Mark Zuckerberg asked him to stop by Facebook.
The elevation of Ahmed's story to the Most Influential section of Twitter's Year in Review is most striking considering what other events made the list: #BlackLivesMatter was the rally cry of activists combatting discrimination; #PrayForParis emerged from the recent tragedy in France; and #RefugeesWelcome became the signal for those who wanted Western countries to accept refugees from the Middle East. Ahmed's inclusion in this group of epic moments signals how important an individual can be for exposing Islamophobia.
Of course, Twitter also featured other major science events of the year. The #PlutoFlyby captured the universal excitement felt when NASA's New Horizon's spacecraft snapped the first high definition photos of our solar system's most illustrious dwarf planet.
The dueling #BlueandBlack and #WhiteandGold hash tags reappeared as well, referencing the furor over the true color of a certain infamous dress. While that debate may never be fully settled, at least everyone seems to agree Ahmed is exactly what he looks like: a badass young scientist.